Case study
WW1 Canadian VC recipient Philip Eric Bent
The story of Canadian First world War Victoria Cross recipient Philip Eric Bent.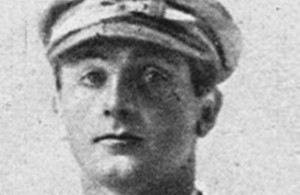 70 men from Canada received the Victoria Cross, Britain's highest award for gallantry, during the First World War. As part of the Centenary Commemorations the people of the United Kingdom marked their gratitude to those courageous men by presenting a bronze memorial plaque to their home country engraved with their names. The plaque is now displayed at the British High Commission Ottawa. This archive tells their stories.
Name: Philip Eric Bent
DOB: 3 January 1891
Place of Birth: Halifax, Nova Scotia, Canada
Date of Action: 1 October 1917
Place of Action: Polygon Wood, Belgium
Rank: Lieutenant Colonel
Regiment: The Leicestershire Regiment, British Army
Philip Eric Bent was born in Halifax, Nova Scotia in Canada in 1891, but grew up and was educated in the United Kingdom. He joined the Merchant Navy in 1907, and on the outbreak of the First World War, he and a friend enlisted in the British Army thinking the war would be over quickly. Some months later, he was commissioned as an officer in the Leicestershire Regiment, and he left for the Western Front in July 1915.
Lt Col Bent was posthumously awarded the Victoria Cross for his bravery whilst leading a successful counter-attack, which secured a vital piece of the line, on 1 October 1917 near Polygon Wood. His citation reads as follows:
For most conspicuous bravery, when during a heavy hostile attack, the right of his own command and the battalion on his right were forced back. The situation was critical owing to the confusion caused by the attack and the intense artillery fire. Lt. Col. Bent personally collected a platoon that was in reserve, and together with men from other companies and various regimental details, he organised and led them forward to the counter-attack, after issuing orders to other officers as to the further defence of the line. The counter-attack was successful and the enemy were checked. The coolness and magnificent example shown to all ranks by Lt.-Col. Bent resulted in the securing of a portion of the line which was of essential importance for subsequent operations. This very gallant officer was killed whilst leading a charge which he inspired with the call of Come on the Tigers.
Lieutenant-Colonel Bent has no known grave, but is commemorated on the Tyne Cot Memorial, Belgium.
Published 20 June 2016