Case study
WW1 Canadian VC recipient Lionel (Leo) Beaumaurice Clarke
WW1 Canadian First World War Victoria Cross recipient Lionel (Leo) Beaumaurice Clarke.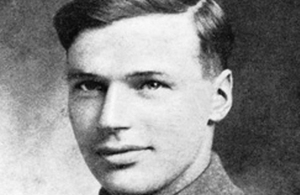 70 men from Canada received the Victoria Cross, Britain's highest award for gallantry, during the First World War. As part of the Centenary Commemorations the people of the United Kingdom marked their gratitude to those courageous men by presenting a bronze memorial plaque to their home country engraved with their names. The plaque is now displayed at the British High Commission Ottawa. This archive tells their stories.
Name: Lionel (Leo) Beaumaurice Clarke
DOB: 1 December 1892
Place of Birth: Waterdown, Ontario, Canada
Date of Action: 9 September 1916
Place of Action: Pozières, France
Rank: Corporal
Regiment: 2nd Battalion, Canadian Expeditionary Force
Lionel (Leo) Beaumaris Clarke was born on 1 December 1892 in Ontario, Canada. He worked as a surveyor for the Canadian National Railway before enlisting in February 1915. He was sent to France with the 2nd Battalion, Canadian Expeditionary Force, in 1916.
Corporal Clarke was awarded his Victoria Cross on 9 September 1916 near Pozières during the Battle of the Somme. He had been tasked with taking a section of German trench which was so heavily defended, that the Canadians had to battle their way through with rifles, hand grenades, and bayonets. Casualties were heavy, and Clarke found himself the last man standing when he met a counter-attack of 20 German soldiers. As his citation explains:
For most conspicuous bravery. He was detailed with his section of bombers to clear the continuation of a newly-captured trench and cover the construction of a "block." After most of his party had become casualties, he was building a "block" when about twenty of the enemy with two officers counter-attacked. He boldly advanced against them, emptied his revolver into them and afterwards two enemy rifles which he picked up in the trench. One of the officers then attacked him with the bayonet, wounding him in the leg, but he shot him dead. The enemy then ran away, pursued by Acting Corporal Clarke, who shot four more and captured a fifth. Later he was ordered to the dressing-station, but returned next day to duty.
A month later, he was injured when the blast from a shell caused him to be buried in a trench. Clarke was rescued by his brother Charles, who was serving with him, but he died in hospital on 19 October 1916, and was buried in Etretat churchyard, near Le Havre, France.
In 1925, Pine Street in Winnipeg was renamed "Valour Road" in honour of Clarke and fellow Victoria Cross winners Frederick Hall, and Robert Shankland, all of whom lived there.
Published 20 June 2016