Case study
WW1 Canadian VC recipient John MacGregor
The story of Canadian First World War Victoria Cross recipient John MacGregor.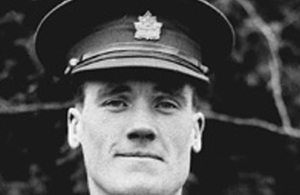 70 men from Canada received the Victoria Cross, Britain's highest award for gallantry, during the First World War. As part of the Centenary Commemorations the people of the United Kingdom marked their gratitude to those courageous men by presenting a bronze memorial plaque to their home country engraved with their names. The plaque is now displayed at the British High Commission Ottawa. This archive tells their stories.
Name: John MacGregor
DOB: 11 February 1888
Place of Birth: Cawdor, Scotland
Date of Action: 29 September to 3 October 1918
Place of Action: Cambrai, France
Rank: Captain
Regiment: 2nd Canadian Mounted Rifles, Canadian Expeditionary Force
John MacGregor was born in Cawdor, Scotland, on 11 February 1888. He emigrated before the First World War to Canada where he travelled across the country as a carpenter, and just before enlisting was working as a trapper. He joined the Canadian Expeditionary Force, first as a private when he was awarded the Distinguished Conduct Medal, and then as a commissioned officer. He was also awarded the Military Cross and a Bar to his MC.
Captain MacGregor was awarded the Victoria Cross for his conspicuous bravery, leadership and self-sacrificing devotion to duty near Cambrai on 29 September to 3 October 1918, during the Battle of the Canal du Nord. His citation explains further:
He led his company under intense fire, and when the advance was checked by machine guns, although wounded, pushed on and located the enemy guns. He then ran forward in broad daylight, in face of heavy fire from all directions, and, with rifle and bayonet, single-handed, put the enemy crews out of action, killing four and taking eight prisoners. His prompt action saved many casualties and enabled the advance to continue. After reorganising his command under heavy fire he rendered the most useful support to neighbouring troops. When the enemy were showing stubborn resistance, he went along the line regardless of danger, organised the platoons, took command of the leading waves, and continued the advance. Later, after a personal daylight reconnaissance under heavy fire, he established his company in Neuville St. Remy, thereby greatly assisting the advance into Tilloy. Throughout the operations Capt. MacGregor displayed magnificent bravery and heroic leadership.
MacGregor returned to Canada, married, and worked as a carpenter and fisherman. He served again during the Second World War reaching the rank of Lieutenant-Colonel. He died in 1952, in British Columbia, Canada.
Published 20 June 2016