Case study
WW1 Canadian VC recipient John Chipman Kerr
The story of Canadian First World War Victoria Cross recipient John Chipman Kerr.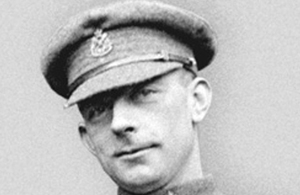 70 men from Canada received the Victoria Cross, Britain's highest award for gallantry, during the First World War. As part of the Centenary Commemorations the people of the United Kingdom marked their gratitude to those courageous men by presenting a bronze memorial plaque to their home country engraved with their names. The plaque is now displayed at the British High Commission Ottawa. This archive tells their stories.
Name: John Chipman Kerr
DOB: 11 January 1887
Place of Birth: Fox River, Nova Scotia, Canada
Date of Action: 16 September 1916
Place of Action: near Courcelette, France
Rank: Private
Regiment: 49th Infantry Battalion, Canadian Expeditionary Force
John Chipman Kerr was born in Fox River, Nova Scotia, on 11 January 1887. He worked as a lumberjack and farmer before war broke out. Kerr served with the 49th Infantry Battalion of the Canadian Expeditionary Force during the First World War.
Private Kerr was awarded his Victoria Cross for most conspicuous bravery near Courcelette in France on 16 September 1916, towards the end of the Battle of the Somme. His citation reads:
During a bombing attack he was acting as bayonet man, and, knowing that bombs were running short, he ran along the parados under heavy fire until he was in close contact with the enemy, when he opened fire on them at point-blank range, and inflicted heavy loss. The enemy, thinking they were surrounded, surrendered. Sixty-two prisoners were taken and 250 yards of enemy trench captured. Before carrying out this very plucky act one of Private Kerr's fingers had been blown off by a bomb. Later, with two other men, he escorted back the prisoners under fire, and then returned to report himself for duty before having his wound dressed.
Kerr returned to Canada where he worked as a forest ranger. He later served in the Second World War. In 1951, Mount Kerr in the Jasper National Park, Alberta, was named after him. He died in 1963 in Port Moody, British Columbia, where a park is dedicated to his memory.
Published 20 June 2016