Case study
WW1 Canadian VC recipient John Alexander Sinton
The story of Canadian First World War Victoria Cross recipient John Alexander Sinton.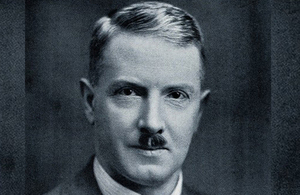 70 men from Canada received the Victoria Cross, Britain's highest award for gallantry, during the First World War. As part of the Centenary Commemorations the people of the United Kingdom marked their gratitude to those courageous men by presenting a bronze memorial plaque to their home country engraved with their names. The plaque is now displayed at the British High Commission Ottawa. This archive tells their stories.
Name: John Alexander Sinton
DOB: 2 December 1884
Place of Birth: Victoria, Canada
Date of Action: 21 January 1916
Place of Action: The Orah Ruins, Mesopotamia
Rank: Captain
Regiment: Indian Medical Service
John Alexander Sinton was born on 2 December 1884, in British Columbia, Canada, to a Quaker family from Northern Ireland who returned to live there when Sinton was just a boy. He later studied medicine at Queen's University, Belfast, before joining the Indian Medical Service of the Indian Army in 1911.
Captain Sinton was awarded the Victoria Cross for most conspicuous bravery and devotion to duty, on 21 January 1916 at the Orah Ruins in Mesopotamia (now Iraq) where he attended to the wounded under very heavy fire, whilst wounded himself. His citation reads:
Although shot through both arms and through the side, he refused to go to hospital, and remained as long as daylight lasted, attending to his duties under very heavy fire. In three previous actions Captain Sinton displayed the utmost bravery.
After the war he joined the civil branch of the Indian Medical Service where his outstanding research, in both the fields of malaria and tropical medicine, led to a long list of honours and awards throughout his career, including being made a Fellow of the Royal Society in 1946. He resumed his military career in the Second World War advising on malaria in several campaigns, and rose to the rank of Brigadier.
After his retirement he took on many public and civil roles. Sinton died in Cookstown, Northern Ireland, in 1956 and was buried with full military honours.
Published 20 June 2016