Case study
WW1 Canadian VC recipient Jean Brillant
The story of Canadian First World War Victoria Cross recipient Jean Brillant.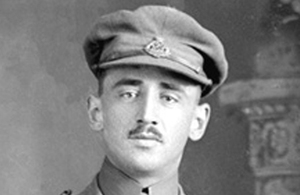 70 men from Canada received the Victoria Cross, Britain's highest award for gallantry, during the First World War. As part of the Centenary Commemorations the people of the United Kingdom marked their gratitude to those courageous men by presenting a bronze memorial plaque to their home country engraved with their names. The plaque is now displayed at the British High Commission Ottawa. This archive tells their stories.
Name: Jean Brillant
DOB: 15 March 1890
Place of Birth: Assemetquaghan, Quebec, Canada
Date of Action: 8 August 1918
Place of Action: Méharicourt, France
Rank: Lieutenant
Regiment: 22nd Infantry Battalion, Canadian Expeditionary Force
Jean Brillant was born in 1890 in Assemetquaghan, Quebec, and worked as a telegraph operator before enlisting in the Canadian Expeditionary Force. By October 1916, he was in France with the 22nd Infantry Battalion. In May 1918, Brillant was awarded the Military Cross for his conduct when leading a group of men to destroy an enemy position.
Lieutenant Brillant was awarded the Victoria Cross for his bravery and devotion to duty when leading his men in attack on 8 to 9 August 1918, near Méharicourt, France, on the first two days of the Battle of Amiens. His citation explains more:
On the first day of operations shortly after the attack had begun, his company left flank was held up by an enemy machine-gun. Lt. Brillant rushed and captured the machine-gun, personally killing two of the enemy crew. Whilst doing this, he was wounded, but refused to leave his command. Later on the same day, his company was held up by heavy machine-gun fire. He reconnoitred the ground personally, organised a party of two platoons and rushed straight for the machine-gun nest. Here 150 enemy and fifteen machine-guns were captured, Lt. Brillant personally killing five of the enemy, and being wounded a second time. He had this wound dressed immediately, and again refused to leave his Company. Subsequently this gallant officer detected a field gun firing on his men over open sights. He immediately organised and led a 'rushing' party towards the gun. After progressing about 600 yards, he was again seriously wounded. In spite of this third wound, he continued to advance for some 200 yards more, when he fell unconscious from exhaustion and loss of blood.
Lieutenant Brillant died the following day, 10 August 1918, and he is buried in Villers-Bretonneaux military cemetery in France. A park in Montreal is named after him.
Published 20 June 2016