Case study
WW1 Canadian VC recipient Hugh Cairns
The story of Canadian First World War Victoria Cross recipient Hugh Cairns.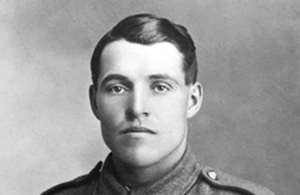 70 men from Canada received the Victoria Cross, Britain's highest award for gallantry, during the First World War. As part of the Centenary Commemorations the people of the United Kingdom marked their gratitude to those courageous men by presenting a bronze memorial plaque to their home country engraved with their names. The plaque is now displayed at the British High Commission Ottawa. This archive tells their stories.
Name: Hugh Cairns
DOB: 4 December 1896
Place of Birth: Ashington, England
Date of Action: 1 November 1918
Place of Action: Valenciennes, France
Rank: Sergeant
Regiment: 46th Infantry Battalion, Canadian Expeditionary Force
Hugh Cairns was born in 1896 in Ashington, England, and emigrated with his family to Canada in 1911. He described himself as a plumber when he enlisted in the Canadian Expeditionary Forces in 1915, along with his two brothers. In April 1917, Cairns was awarded the Distinguished Conduct Medal for his bravery at Vimy Ridge.
Sergeant Cairns posthumously received the Victoria Cross for his bravery during the liberation of Valenciennes in France on 1 November 1918. His citation reads:
For most conspicuous bravery before Valenciennes on 1st November, 1918, when a machine gun opened on his platoon. Without a moment's hesitation Serjt. Cairns seized a Lewis gun and single-handed in the face of direct fire, rushed the post, killed the crew of five, and captured the gun. Later, when the line was held up by machine-gun fire, he again rushed forward, killing 12 enemy and capturing 18 and two guns. Subsequently when the advance was held up by machine-guns and field guns, although wounded, he led a small party to outflank them, killing many, forcing about 50 to surrender, and capturing all the guns. After consolidation he went with a battle patrol to exploit Marly and forced 60 enemy to surrender. Whilst disarming this party he was severely wounded. Nevertheless he opened fire and inflicted heavy losses. Finally he was rushed by about 20 enemy and collapsed from weakness and loss of blood. Throughout the operation he showed the highest degree of valour, and his leadership greatly contributed to the success of the attack. He died on the 2nd November from wounds.
Sergeant Cairns was also awarded the Légion d'honneur by the French Government for his actions. He was buried at the Auberchicourt British Cemetery in France. A street was named in his honour in Valenciennes, the town he helped to liberate, and several buildings are named after him in his hometown of Saskatoon, Canada.
Published 20 June 2016