Case study
WW1 Canadian VC recipient Herman James Good
The story of Canadian First World War Victoria Cross recipient Herman James Good.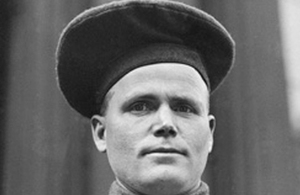 70 men from Canada received the Victoria Cross, Britain's highest award for gallantry, during the First World War. As part of the Centenary Commemorations the people of the United Kingdom marked their gratitude to those courageous men by presenting a bronze memorial plaque to their home country engraved with their names. The plaque is now displayed at the British High Commission Ottawa. This archive tells their stories.
Name: Herman James Good
DOB: 29 November 1887
Place of Birth: South Bathurst, New Brunswick, Canada
Date of Action: 8 August 1918
Place of Action: Amiens, France
Rank: Corporal
Regiment: 13th Infantry Battalion, Canadian Expeditionary Force
Herman James Good was born on 29 November 1887 in South Bathurst, New Brunswick, and worked as a lumberman before enlisting in the Canadian Expeditionary Force in 1915. During his time on the Western Front, Good fought at Ypres, the Somme and the Vimy Ridge. He was wounded three times before the events of August 1918.
Corporal Good was awarded his Victoria Cross for his actions with the 13th Infantry Battalion on 8 August 1918 on the first day of the Battle of Amiens in France. His citation explains further:
For most conspicuous bravery and leading when in attack his company was held up by heavy fire from three machine guns, which were seriously delaying the advance. Realising the gravity of the situation, this N.C.O. dashed forward alone, killing several of the garrison and capturing the remainder. Later on Cpl. Good, while alone, encountered a battery of 5.9-inch guns, which were in action at the time. Collecting three men of his section, he charged the battery under point-blank fire and captured the entire crews of three guns.
After the war Good returned to New Brunswick, Canada where he continued lumbering and farming. He died in 1969.
Published 20 June 2016