Case study
WW1 Canadian VC recipient Harry (Henry) Garnet Bedford Miner
The story of Canadian First World War Victoria Cross recipient Harry (Henry) Garnet Bedford Miner.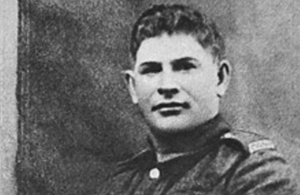 70 men from Canada received the Victoria Cross, Britain's highest award for gallantry, during the First World War. As part of the Centenary Commemorations the people of the United Kingdom marked their gratitude to those courageous men by presenting a bronze memorial plaque to their home country engraved with their names. The plaque is now displayed at the British High Commission Ottawa. This archive tells their stories.
Name: Harry (Henry) Garnet Bedford Miner
DOB: 24 June 1891
Place of Birth: Cedar Springs, Ontario, Canada
Date of Action: 8 August 1918
Place of Action: Amiens, France
Rank: Corporal
Regiment: 58th Infantry Battalion, Canadian Expeditionary Force
Harry (Henry) Garnet Bedford Miner was born on 24 June 1891 in Cedar Springs, Canada, where he lived on a farm. He enlisted in the Canadian Expeditionary Force in 1915. Miner received the Croix de Guerre from the French Government for his actions at Lens in 1917.
Corporal Miner was posthumously awarded the Victoria Cross for his bravery and devotion to duty on 8 August 1918, whilst serving with the 58th Infantry Battalion on the first day of the Battle of Amiens in France. His citation reads:
For most conspicuous bravery and devotion to duty in attack, when despite severe wounds he refused to withdraw. He rushed an enemy machine-gun post single-handed, killed the entire crew and turned the gun on the enemy. Later, with two others, he attacked another enemy machine-gun post, and succeeded in putting the gun out of action. Cpl. Miner then rushed single-handed an enemy bombing post, bayoneting two of the garrison and putting the remainder to flight. He was mortally wounded in the performance of this gallant deed.
Corporal Miner is buried at the Crouy British Cemetery in northern France. He is commemorated by a memorial plaque in Cedar Springs, Ontario.
Published 20 June 2016