Case study
WW1 Canadian VC recipient Graham Thompson Lyall
The story of Canadian First World War Victoria Cross recipient Graham Thompson Lyall.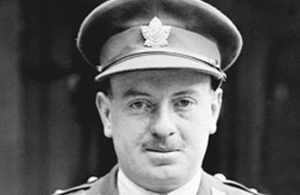 70 men from Canada received the Victoria Cross, Britain's highest award for gallantry, during the First World War. As part of the Centenary Commemorations the people of the United Kingdom marked their gratitude to those courageous men by presenting a bronze memorial plaque to their home country engraved with their names. The plaque is now displayed at the British High Commission Ottawa. This archive tells their stories.
Name: Graham Thompson Lyall
DOB: 8 March 1892
Place of Birth: Manchester, England
Date of Action: 27 September 1918
Place of Action: Cambrai, France
Rank: Lieutenant
Regiment: 102nd Infantry Battalion, Canadian Expeditionary Force
Graham Thomson Lyall was born 8 March 1892 in Manchester, England, but emigrated before the First World War to Canada settling in Ontario. He was working as a mechanical engineer when he enlisted in the Canadian Expeditionary Force, and later joined the 102nd Infantry Battalion.
Lieutenant Lyall was awarded the Victoria Cross for his most conspicuous bravery and skilful leadership on 27 September 1918 at Bourlon Wood, immediately north of Cambrai in France. His citation explains further:
On September 27th, 1918, whilst leading his platoon against Bourlon Wood, he rendered invaluable support to the leading company, which was held up a by a strong point, which he captured, by a flank movement, together with thirteen prisoners, one field gun and four machine guns. Later, his platoon, now much weakened by casualties, was held up by machine guns at the southern end of Bourlon Wood. Collecting any man available, he led them towards the strong point, and springing forward alone, rushed the position single-handed and killed the officer in charge, subsequently capturing at this point forty-five prisoners and five machine guns. Having made good his final objective, with a further capture of forty-seven prisoners, he consolidated his position and thus protected the remainder of the company. On October 1st, in the neighbourhood of Blecourt, when in command of a weak company, by skilful dispositions he captured a strongly defended position, which yielded eighty prisoners and seventeen machine guns. During two days of operations Lt. Lyall captured in all 3 officers, 182 other ranks, 26 machine guns and one field gun, exclusive of heavy casualties inflicted. He showed throughout the utmost valour and high powers of command.
Lyall received his VC from King George V at Buckingham Palace. In the Second World War, as a member of the Territorial Army, he was mobilised and joined the 8th Army in the Middle East as a Colonel. He died of a heart attack in 1941 after trekking through the desert following a German air attack.
Published 20 June 2016