Case study
WW1 Canadian VC recipient George Randolph Pearkes
The story of Canadian First World War Victoria Cross recipient George Randolph Pearkes.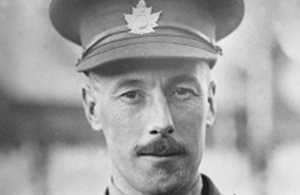 70 men from Canada received the Victoria Cross, Britain's highest award for gallantry, during the First World War. As part of the Centenary Commemorations the people of the United Kingdom marked their gratitude to those courageous men by presenting a bronze memorial plaque to their home country engraved with their names. The plaque is now displayed at the British High Commission Ottawa. This archive tells their stories.
Name: George Randolph Pearkes
DOB: 26 June 1888
Place of Birth: Watford, England
Date of Action: 30 to 31 October 1917
Place of Action: Passchendaele, Belgium
Rank: Major
Regiment: 5th Canadian Mounted Rifles, Canadian Expeditionary Force.
George Randolph Pearkes was born in Watford, England on 26 June 1888. He emigrated to Canada in 1906 and joined the Royal Mounted Police. He enlisted in the 2nd Canadian Mounted Rifles in 1915. In 1916 he transferred to, and later rose to command, the 5th Canadian Mounted Rifles.
Major Pearkes was awarded the Victoria Cross for his actions and leadership at Passchendaele, Belgium on 30 to 31 October 1917. His citation explains further:
For most conspicuous bravery and skilful handling of the troops under his command during the capture and consolidation of considerably more than the objectives allotted to him, in an attack. Just prior to the advance Maj. Pearkes was wounded in the left thigh. Regardless of his wound, he continued to lead his men with the utmost gallantry, despite many obstacles. At a particular stage of the attack his further advance was threatened by a strong point which was an objective of the battalion on his left, but which they had not succeeded in capturing. Quickly appreciating the situation, he captured and held this point, thus enabling his further advance to be successfully pushed forward. It was entirely due to his determination and fearless personality that he was able to maintain his objective with the small number of men at his command against repeated enemy counter-attacks, both his flanks being unprotected for a considerable depth meanwhile. His appreciation of the situation throughout and the reports rendered by him were invaluable to his Commanding Officer in making dispositions of troops to hold the position captured. He showed throughout a supreme contempt of danger and wonderful powers of control and leading.
After the war Pearkes returned to Canada where he continued his military career and served in the Second World War where he was appointed to senior command roles. He then successfully entered politics, and had a long career in public service. He became the Minister of Defence, and was later appointed Lieutenant-Governor of British Colombia. He died in in 1984, at the age of 96. The main building at National Defence Headquarters in Ottawa is named in his honour.
Published 20 June 2016