Case study
WW1 Canadian VC recipient George Fraser Kerr
The story of Canadian First World War Victoria Cross recipient George Fraser Kerr.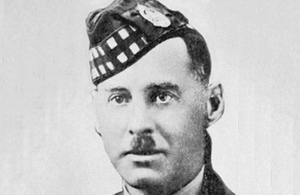 70 men from Canada received the Victoria Cross, Britain's highest award for gallantry, during the First World War. As part of the Centenary Commemorations the people of the United Kingdom marked their gratitude to those courageous men by presenting a bronze memorial plaque to their home country engraved with their names. The plaque is now displayed at the British High Commission Ottawa. This archive tells their stories.
Name: George Fraser Kerr
DOB: 8 June 1894
Place of Birth: Deseronto, Ontario, Canada
Date of Action: 27 Sept 1918
Place of Action: Cambrai, France
Rank: Lieutenant
Regiment: 3rd Infantry Battalion, Canadian Expeditionary Force
George Fraser Kerr was born on 8 June 1894 in Deseronto, Canada. Shortly after the outbreak of the First World War, he enlisted in the 3rd Infantry Battalion of the Canadian Expeditionary Force as a private but was later commissioned as an officer. Wounded twice, he was awarded the Military Medal, and the Military Cross and a Bar.
Lieutenant Kerr was awarded the Victoria Cross for his bravery on 27 September 1918 at Cambrai, in France, whilst leading his company during an advance on Bourlon Wood. His citation explains:
For most conspicuous bravery and leadership during the Bourlon Wood operations on 27th September, 1918, when in command of the left support company in attack. He handled his company with great skill, and gave timely support by outflanking a machine-gun which was impeding the advance. Later, near the Arras-Cambrai road, the advance was again held up by a strong point. Lt. Kerr, far in advance of his company, rushed this strong point single-handed and captured four machine-guns and thirty-one prisoners. His valour throughout this engagement was an inspiring example to all.
Kerr returned to Canada after the war where he went into business. He died in Toronto in 1929.
Published 20 June 2016