Case study
WW1 Canadian VC recipient Frederick William Hall
The story of Canadian First World War Victoria Cross recipient Frederick William Hall.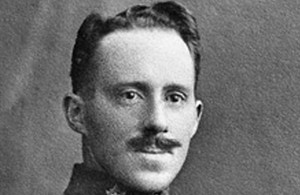 70 men from Canada received the Victoria Cross, Britain's highest award for gallantry, during the First World War. As part of the Centenary Commemorations the people of the United Kingdom marked their gratitude to those courageous men by presenting a bronze memorial plaque to their home country engraved with their names. The plaque is now displayed at the British High Commission Ottawa. This archive tells their stories.
Name: Frederick William Hall
DOB: 21 February 1885
Place of Birth: Kilkenny, Ireland
Date of Action: 24 April 1915
Place of Action: Ypres, Belgium
Rank: Company Sergeant Major
Regiment: 8th Infantry Battalion, Canadian Expeditionary Force
Frederick William Hall was born in Kilkenny, Ireland, on 21 February 1885 but later emigrated to Winnipeg, Canada. In September 1914, he enlisted in the 8th Infantry Battalion of the Canadian Expeditionary Force.
Company Sergeant Major Hall was posthumously awarded the Victoria Cross for his bravery on 24 April 1915 during the Second Battle of Ypres in Belgium, when he was killed trying to save a wounded comrade. His citation explains further:
On 24th April, 1915, in the neighbourhood of Ypres, when a wounded man who was lying some 15 yards from the trench called for help, Company Serjeant-Major Hall endeavoured to reach him in the face of a very heavy enfilade fire which was being poured in by the enemy. The first attempt failed, and a non-commissioned officer and private soldier who were attempting to give assistance were both wounded. Company Serjeant-Major Hall then made a second most gallant attempt, and was in the act of lifting up the wounded man to bring him in when he fell mortally wounded in the head.
Company Sergeant Major Hall's final resting place is not known, and his name is recorded on the Menin Gate at Ypres. In 1925, Pine Street in Winnipeg was renamed "Valour Road" in honour of Hall and fellow Victoria Cross winners Leo Clarke and Robert Shankland, all of whom lived there.
Published 20 June 2016