Case study
WW1 Canadian VC recipient Frederick Maurice Watson Harvey
The story of Canadian First World War Victoria Cross recipient Frederick Maurice Watson Harvey.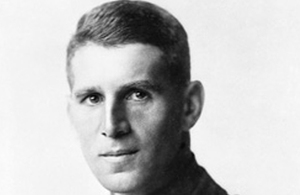 70 men from Canada received the Victoria Cross, Britain's highest award for gallantry, during the First World War. As part of the Centenary Commemorations the people of the United Kingdom marked their gratitude to those courageous men by presenting a bronze memorial plaque to their home country engraved with their names. The plaque is now displayed at the British High Commission Ottawa. This archive tells their stories.
Name: Frederick Maurice Watson Harvey
DOB: 1 September 1888
Place of Birth: Athboy, Ireland
Date of Action: 27 March 1917
Place of Action: Guyencourt, France
Rank: Lieutenant
Regiment: Lord Strathcona's Horse, Canadian Cavalry
Frederick Maurice Watson Harvey was born on 1 September 1888 in Athboy, Ireland, and he went on to represent his country of birth at rugby. In 1908, he emigrated to Canada settling in Alberta. During the First World War, he originally served with the 13th Canadian Mounted Rifles before transferring to the Lord Strathcona's Horse, part of the Canadian cavalry.
Lieutenant Harvey was awarded the Victoria Cross for his bravery and devotion to duty during an attack on the village of Guyencourt in France on 27 March 1917. His citation explains:
During an attack by his regiment on a village a party of the enemy ran forward to a wired trench just in front of the village and opened rapid rifle and machine gun fire at a very close range, causing heavy casualties in the leading troop.At this critical moment, when the enemy showed no intention whatever of retiring and fire was still intense, Lt. Harvey, who was in command of the leading troop, ran forward well ahead of his men and dashed at the trench, still fully manned, jumped the wire, shot the machine gunner and captured the gun. His most courageous act undoubtedly had a decisive effect on the success of the operation.
Harvey was later awarded the Military Cross and the French Croix de Guerre. After the war, he joined the permanent Canadian Army. He died in 1980, aged 91, in Alberta, Canada.
Published 20 June 2016