Case study
WW1 Canadian VC recipient Frederick Hobson
The story of Canadian First World War Victoria Cross recipient Frederick Hobson.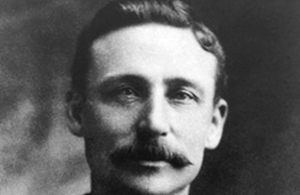 70 men from Canada received the Victoria Cross, Britain's highest award for gallantry, during the First World War. As part of the Centenary Commemorations the people of the United Kingdom marked their gratitude to those courageous men by presenting a bronze memorial plaque to their home country engraved with their names. The plaque is now displayed at the British High Commission Ottawa. This archive tells their stories.
Name: Frederick Hobson
DOB: 23 September 1873
Place of Birth: London, England
Date of Action: 18 August 1917
Place of Action: Hill 70, Lens, France
Rank: Sergeant
Regiment: 20th Battalion, Canadian Expeditionary Force
Frederick Hobson was born on 23 September 1873 in London, England, and served with the British Army in the Second Boer War before emigrating to Ontario, Canada. When he enlisted in the Canadian Expeditionary Force in November 1914, he lied about his age as he would otherwise have been too old.
Sergeant Hobson was posthumously awarded the Victoria Cross for his bravery on 18 August 1917 at Hill 70, Lens, France. His citation explains:
During a strong enemy counter-attack a Lewis gun in a forward post in a communication trench leading to the enemy lines, was buried by a shell, and the crew, with the exception of one man, killed. Sjt. Hobson, though not a gunner, grasping the great importance of the post, rushed from his trench, dug out the gun, and got it into action against the enemy who were now advancing down the trench and across the open. A jam caused the gun to stop firing. Though wounded, he left the gunner to correct the stoppage, rushed forward at the advancing enemy and, with bayonet and clubbed rifle, single handed, held them back until he himself was killed by a rifle shot. By this time however, the Lewis gun was again in action and reinforcements shortly afterwards arriving, the enemy were beaten off. The valour and devotion to duty displayed by this non-commissioned Officer gave the gunner the time required to again get the gun into action, and saved a most serious situation.
Sergeant Hobson has no known grave. He is commemorated on the Vimy Memorial in France.
Published 20 June 2016