Case study
WW1 Canadian VC recipient Frederick (Fred) Fisher
The story of Canadian First World War Victoria Cross recipient Frederick (Fred) Fisher.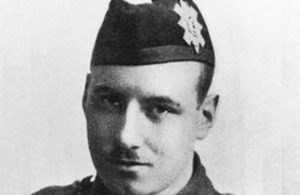 70 men from Canada received the Victoria Cross, Britain's highest award for gallantry, during the First World War. As part of the Centenary Commemorations the people of the United Kingdom marked their gratitude to those courageous men by presenting a bronze memorial plaque to their home country engraved with their names. The plaque is now displayed at the British High Commission Ottawa. This archive tells their stories.
Name: Frederick (Fred) Fisher
DOB: 3 August 1895
Place of Birth: St Catharine's, Ontario, Canada
Date of Action: 23 April 1915
Place of Action: near St Julien's, Belgium
Rank: Lance-Corporal
Regiment: 13th Infantry Battalion, Canadian Expedition Force
Lance-Corporal Frederick (Fred) Fisher was the first Canadian in a Canadian unit to win the Victoria Cross in the First World War. He was born in St Catharine's, Ontario on 3 August 1895, and was studying applied sciences at university in Montreal when war broke out.
Lance Corporal Fisher was awarded the Victoria Cross for his actions on 23 April 1915 near St Julien during the Second Battle of Ypres whilst serving with the 13th Infantry Battalion. It was where the Canadian Expeditionary Force had their first major engagement of the war. Lance-Corporal Fisher had discovered two 18-pounder field guns in danger of being overrun by attacking German infantry when, with other soldiers, he held off the enemy with his machine gun until the field guns could be rescued. Fisher was killed later that day during another attempt to move forward. His citation reads as follows:
On 23rd April, 1915, in the neighbourhood of St. Julien, he went forward with the machine gun, of which he was in charge, under heavy fire, and most gallantly assisted in covering the retreat of a battery, losing four men of his gun team. Later, after obtaining four more men, he went forward again to the firing line and was himself killed while bringing his machine gun into action under very heavy fire, in order to cover the advance of supports.
Lance-Corporal Fisher was awarded the Victoria Cross posthumously. His final resting place is not known but his name is recorded on the Menin Gate Memorial, Ypres.
Published 20 June 2016