Case study
WW1 Canadian VC recipient Francis Alexander Caron Scrimger
The story of Canadian First World War Victoria Cross recipient Francis Alexander Caron Scrimger.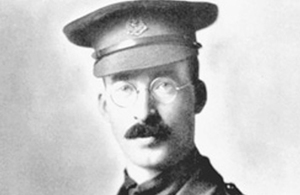 70 men from Canada received the Victoria Cross, Britain's highest award for gallantry, during the First World War. As part of the Centenary Commemorations the people of the United Kingdom marked their gratitude to those courageous men by presenting a bronze memorial plaque to their home country engraved with their names. The plaque is now displayed at the British High Commission Ottawa. This archive tells their stories.
Name: Francis Alexander Caron Scrimger
DOB: 10 February 1881
Place of Birth: Montreal, Canada
Date of Action: 25 April 1915
Place of Action: Ypres, Belgium
Rank: Captain
Regiment: Canadian Army Medical Corps, Canadian Expeditionary Force
Francis Alexander Caron Scrimger was born in Montreal, Canada, on 10 February 1881. He studied medicine at university and, at the outbreak of the First World War, he was working as a surgeon and lecturer. He then joined the Canadian Army Medical Corps and served as the Medical Officer of the 14th Infantry Battalion, Canadian Expeditionary Force.
Captain Scrimger was awarded the Victoria Cross for bravery on 25 April 1915 during the Second Battle of Ypres. He was in charge of the Advanced Dressing Station of the 3rd Canadian Field Ambulance, whose staff worked tirelessly treating the victims of gas attacks and other fighting, often under shell fire themselves. On 25 April, their buildings caught fire and they were forced to evacuate. As his citation explains:
On the afternoon of 25th April, 1915, in the neighbourhood of Ypres, when in charge of an advanced dressing station in some farm buildings, which were being heavily shelled by the enemy, he directed under heavy fire the removal of the wounded, and he himself carried a severely wounded Officer out of a stable in search of a place of greater safety. When he was unable alone to carry this Officer further, he remained with him under fire till help could be obtained. During the very heavy fighting between 22nd and 25th April, Captain Scrimger displayed continuously day and night the greatest devotion to his duty among the wounded at the front.
Later in the war, Scrimger worked in various Canadian hospitals in both France and England and was promoted to the rank of Lt-Colonel. After the war he returned to Montreal and became surgeon-in-chief at the Royal Victorian Hospital. He died in 1937.
Published 20 June 2016