Case study
WW1 Canadian VC recipient Edmund De Wind
The story of Canadian First World War Victoria Cross recipient Edmund De Wind.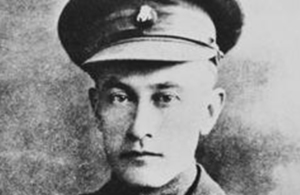 70 men from Canada received the Victoria Cross, Britain's highest award for gallantry, during the First World War. As part of the Centenary Commemorations the people of the United Kingdom marked their gratitude to those courageous men by presenting a bronze memorial plaque to their home country engraved with their names. The plaque is now displayed at the British High Commission Ottawa. This archive tells their stories.
Name: Edmund De Wind
DOB: 11 December 1883
Place of Birth: Comber, Northern Ireland
Date of Action: 21 March 1918
Place of Action: Grugies, France
Rank: Second Lieutenant
Regiment: Royal Irish Rifles, British Army
Edmund De Wind was born on 11 December 1883 in Comber, Northern Ireland, and had emigrated to Canada before the outbreak of the First World War. In November 1914, he enlisted in the Canadian Expeditionary Force in Edmonton, and he arrived in France in 1915. He served with the 31st Battalion, and took part in the Battle of the Somme in 1916 and Vimy Ridge in 1917. De Wind later earned a commission in the British Army and joined the Royal Irish Rifles.
Second Lieutenant de Wind was posthumously awarded the Victoria Cross for his actions on 21 March 1918 at Grugies, France. His citation reads:
For most conspicuous bravery and self-sacrifice on the 21st March, 1918, at the Race Course Redoubt, near Grugies. For seven hours he held this most important post, and though twice wounded and practically single-handed, he maintained his position until another section could be got to his help. On two occasions, with two N.C.O.'s only, he got out on top under heavy machine gun and rifle fire, and cleared the enemy out of the trench, killing many. He continued to repel attack after attack until he was mortally wounded and collapsed. His valour, self-sacrifice and example were of the highest order.
Second Lieutenant De Wind's body was never recovered and he is remembered at the Pozières Memorial on the Somme. Mount De Wind in Alberta, Canada, was renamed in his honour. His name is inscribed on a pillar at St Anne's Cathedral, Belfast.
Published 20 June 2016