Case study
WW1 Canadian VC recipient Cyrus Wesley Peck
The story of Canadian First World War Victoria Cross recipient Cyrus Wesley Peck.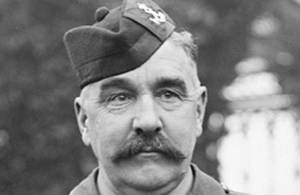 70 men from Canada received the Victoria Cross, Britain's highest award for gallantry, during the First World War. As part of the Centenary Commemorations the people of the United Kingdom marked their gratitude to those courageous men by presenting a bronze memorial plaque to their home country engraved with their names. The plaque is now displayed at the British High Commission Ottawa. This archive tells their stories.
Name: Cyrus Wesley Peck
DOB: 26 April 1871
Place of Birth: Hopewell Hill, New Brunswick
Date of Action: 2 September 1918
Place of Action: Drocourt-Quéant line, near Cagnicourt France
Rank: Lieutenant Colonel
Regiment: 16th Infantry Battalion, Canadian Expeditionary Force
Cyrus Wesley Peck was born in Hopewell Hill, New Brunswick on 26 April 1871. When war broke out he enlisted in the 30th Infantry Battalion, Canadian Expeditionary Force, and received a commission as a Major. He was promoted to command the 16th Infantry Battalion, in November 1916.
As well as being awarded the Victoria Cross, he was also a recipient of the Distinguished Service Order, and was mentioned in dispatches five times. His leadership and actions at the fighting on the Drocourt-Quéant line, near Canicourt earned him the Victoria Cross.
For most conspicuous bravery and skilful leading when in attack under intense fire. His command quickly captured the first objective, but progress to the further objective was held up by enemy machine-gun fire on his right flank. The situation being critical in the extreme, Colonel Peck pushed forward and made a personal reconnaissance under heavy machine-gun and sniping fire, across a stretch of ground which was heavily swept by fire. Having reconnoitred the position he returned, reorganised his battalion, and, acting upon the knowledge personally gained, pushed them forward and arranged to protect his flanks. He then went out under the most intense artillery and machine-gun fire, intercepted the Tanks, gave them the necessary directions, pointing out where they were to make for, and thus pave the way for a Canadian Infantry battalion to push forward. To this battalion he subsequently gave requisite support. His magnificent display of courage and fine qualities of leadership enabled the advance to be continued, although always under heavy artillery and machine-gun fire, and contributed largely to the success of the brigade attack.
After the war he returned to Canada where he had a career in politics, and public office. Peck died in Sydney, British Columbia on 27 September 1956.
Published 20 June 2016