WW1 Canadian VC recipient Claude Joseph Patrick Nunney
The story of Canadian First World War recipient Claude Joseph Patrick Nunney.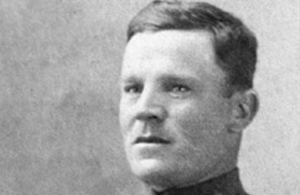 70 men from Canada received the Victoria Cross, Britain's highest award for gallantry, during the First World War. As part of the Centenary Commemorations the people of the United Kingdom marked their gratitude to those courageous men by presenting a bronze memorial plaque to their home country engraved with their names. The plaque is now displayed at the British High Commission Ottawa. This archive tells their stories.
Name: Claude Joseph Patrick Nunney
DOB: 1892
Place of Birth: Dublin, Ireland/ Hastings, England
Date of Action: 1 to 2 September 1918
Place of Action: Drocourt-Queant Line, France
Rank: Private
Regiment: 38th Infantry Battalion, Canadian Expeditionary Force
As a young boy Claude Nunney emigrated to Canada and lived with a family in Ontario, although sources disagree about whether he was born in Dublin or Hastings. In March 1915 he enlisted in the Canadian Expeditionary Force, serving with the 38th Infantry Battalion. He was a recipient of the Military Medal, and the Distinguished Conduct Medal before receiving the Victoria Cross.
Private Nunney was awarded the Victoria Cross posthumously for his actions during the fighting at the Drocourt-Quéant line in France, when the Canadian troops faced heavy counterattacks after capturing enemy positions. His citation explains further:
For most conspicuous bravery during the operations against the Drocourt-Quéant line on the 1st and 2nd September, 1918. On 1st September, when his battalion was in the vicinity of Vis-en-Artois, preparatory to the advance, the enemy laid down a heavy barrage and counter-attacked. Pte. Nunney, who was at this time at company headquarters, immediately on his own initiative proceeded through the barrage to the company outpost lines, going from post to post and encouraging the men by his own fearless example. The enemy were repulsed and a critical situation was saved. During the attack on 2nd September his dash continually placed him in advance of his companions, and his fearless example undoubtedly helped greatly to carry the company forward to its objectives. He displayed throughout the highest degree of valour until severely wounded.
Private Nunney was severely wounded and died on 18 September 1918. He is buried at Aubigny Communal Cemetery Extension, near Pas de Calais.
Published 20 June 2016