Case study
WW1 Canadian VC recipient Cecil John Kinross
The story of Canadian First World War Victoria Cross recipient Cecil John Kinross.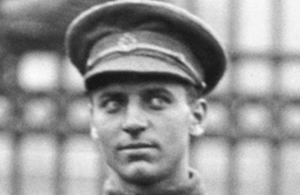 70 men from Canada received the Victoria Cross, Britain's highest award for gallantry, during the First World War. As part of the Centenary Commemorations the people of the United Kingdom marked their gratitude to those courageous men by presenting a bronze memorial plaque to their home country engraved with their names. The plaque is now displayed at the British High Commission Ottawa. This archive tells their stories.
Name: Cecil John Kinross
DOB: 17 February 1895
Place of Birth: Uxbridge, England
Date of Action: 30 October 1917
Place of Action: Passchendaele, Belgium
Rank: Private
Regiment: 49th Infantry Battalion, Canadian Expeditionary Force
Cecil Kinross was born in Uxbridge, England, on 17 February 1895 but moved to Alberta, Canada, with his family when he was sixteen where they began farming. During the First World War, he fought with the 49th Infantry Battalion of the Canadian Expeditionary Force.
Private Kinross was awarded the Victoria Cross for his bravery on 30 October 1917, near Passchendaele in Belgium. His citation states:
For most conspicuous bravery in action during prolonged and severe operations. Shortly after the attack was launched, the company to which he belonged came under intense artillery fire, and further advance was held up by a very severe fire from an enemy machine gun. Pte. Kinross, making a careful survey of the situation, deliberately divested himself of all his equipment save his rifle and bandolier and, regardless of his personal safety, advanced alone over the open ground in broad daylight, charged the enemy machine gun, killing the crew of six, and seized and destroyed the gun. His superb example and courage instilled the greatest confidence in his company, and enabled a further advance of 300 yards to be made and a highly important position to be established.Throughout the day he showed marvellous coolness and courage, fighting with the utmost aggressiveness against heavy odds until seriously wounded.
Kinross survived the war and returned to the family farm. He died in 1957 in Lougheed, Alberta. Mount Kinross in the Rocky Mountains of Alberta was named in his honour.
Published 20 June 2016