Case study
WW1 Australian VC recipient William Thomas Dartnell
The story of Australian First World War Victoria Cross recipient William Thomas Dartnell.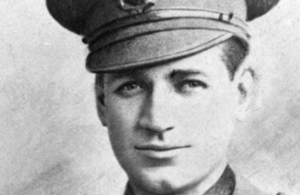 66 men from Australia received the Victoria Cross, Britain's highest award for gallantry, during the First World War. As part of the Centenary Commemorations the people of the United Kingdom marked their gratitude to those courageous men by presenting a bronze memorial plaque to their home country engraved with their names. The plaque is now displayed at the Australian War Memorial. This archive tells their stories.
Name: William Taylor Dartnell (enlisted as Wilbur Taylor Dartnell)
DOB: 6 April 1885
Place of Birth: Collingwood, Victoria, Australia
Date of Action: 3 September 1915
Place of Action: Maktau, British East Africa (now in Kenya)
Rank: Temporary Lieutenant
Regiment: 25th Battalion, the Royal Fusiliers,
William Dartnell was born in Collingwood, Australia, on 6 April 1885. He was only 15 years old when he enlisted for service in South Africa with the Victorian Mounted Rifles in 1901. After returning to Australia, Dartnell married and settled in Melbourne. He subsequently returned to South Africa in 1913, where he was living when the First World War broke out. He volunteered for the British Army, and joined the 25th Battalion, the Royal Fusiliers, as a temporary lieutenant.
Dartnell was awarded his Victoria Cross posthumously for most conspicuous bravery near Maktau in British East Africa. On 3 September 1915, his mounted infantry patrol was ambushed. Despite being wounded himself, he insisted on being left behind and fired on the enemy to allow other wounded companions to be carried away to safety. His citation states:
During a mounted infantry engagement, the enemy got within a few yards of our men, and it was found impossible to get the more severely wounded away. Lieutenant Dartnell, who was himself being carried away wounded in the leg, seeing the situation, and knowing that the enemy's black troops murdered the wounded, insisted on being left behind, in the hope of being able to save the lives of other wounded men. He gave his own life in a gallant attempt to save others.
Lieutenant Dartnell was buried at the Commonwealth War Graves Cemetery at Voi, in Kenya.
Published 20 June 2016