Case study
WW1 Australian VC recipient William Matthew Currey
The story of Australia First World War Victoria Cross recipient William Matthew Currey.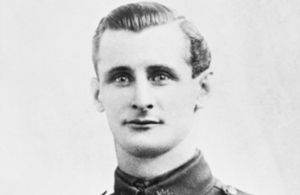 66 men from Australia received the Victoria Cross, Britain's highest award for gallantry, during the First World War. As part of the Centenary Commemorations the people of the United Kingdom marked their gratitude to those courageous men by presenting a bronze memorial plaque to their home country engraved with their names. The plaque is now displayed at the Australian War Memorial. This archive tells their stories.
Name: William Matthew Currey
DOB: 19 September 1895
Place of Birth: Wallsend, New South Wales, Australia
Date of Action: 1 September 1918
Place of Action: Péronne
Rank: Private
Regiment: 53rd Battalion, Australian Imperial Force
William Matthew Currey was born on 19 September in 1895, in New South Wales, Australia. He worked in Sydney as a wireworker before joining the Australian Imperial Force, after several previous attempts had failed as he was under-age. In 1917, he was posted to the 53rd Battalion and fought at Polygon Wood.
Private Currey was awarded the Victoria Cross for his actions on 1 September 1918 during the attack on Péronne when his company was taking casualties from a field gun at close range. His citation states:
When the battalion was suffering heavy casualties from a 77 mm. field gun at very close range, Pte. Currey, without hesitation, rushed forward under intense machine-gun fire and succeeded in capturing the gun single-handed after killing the entire crew. Later, when the advance of the left flank was checked by an enemy strong point, Pte. Currey crept around the flank and engaged the post with a Lewis gun. Finally, he rushed the post single-handed, causing many casualties……Subsequently he volunteered to carry orders for the withdrawal of an isolated company, and this he succeeded in doing despite shell and rifle fire, returning later with valuable information. Throughout the operations his striking example of coolness, determination, and utter disregard of danger had a most inspiring effect on his comrades, and his gallant work contributed largely to the success of the operations.
After the war, Currey returned home, married and had two daughters. He was later elected to the New South Wales parliament. He died in 1948, aged 52.
Published 20 June 2016