Case study
WW1 Australian VC recipient William John Symons
The story of Australian First World War Victoria Cross recipient William John Symons.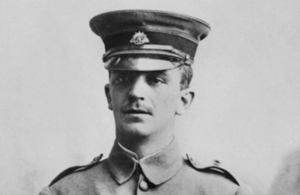 66 men from Australia received the Victoria Cross, Britain's highest award for gallantry, during the First World War. As part of the Centenary Commemorations the people of the United Kingdom marked their gratitude to those courageous men by presenting a bronze memorial plaque to their home country engraved with their names. The plaque is now displayed at the Australian War Memorial. This archive tells their stories.
Name: William John Symons
DOB: 12 July 1889
Place of Birth: Eaglehawk, Victoria, Australia
Date of Action: 8 to 9 August 1915
Place of Action: Lone Pine, Gallipoli
Rank: Lieutenant
Regiment: 7th Battalion, Australian Imperial Force
William John Symons was born on 12 July 1889, in Eaglehawk, Victoria, Australia. He worked as a commercial traveller and spent eight years in the militia, (now the Australian Army Reserve), before joining the Australian Imperial Force upon the outbreak of war. He took part in the Gallipoli landing on 25 April 1915 with the 7th Battalion.
Symons was awarded his Victoria Cross for most conspicuous bravery at Lone Pine trenches on 8 to 9 August 1915. The Turks had led a series of attacks on Jacob's Trench at Lone Pine, where Symons was ordered to retake the trench but he knew that he was unlikely to survive. As his citation explains:
He was in command of the right section of the newly captured trenches held by his battalion, and repelled several counter attacks with great coolness. At about 5 a.m. on 9th August a series of determined attacks were made by the enemy on an isolated sap, and six officers were in succession killed or severely wounded, a portion of the sap being lost. Lieutenant Symons then led a charge which retook the trench, shooting two Turks with his revolver. The sap was under fire from three sides, and Lieutenant Symons withdrew some 15 yards to a spot where some overhead cover could be obtained, and in the face of heavy fire built up a sand barricade. The enemy succeeded in setting fire to the fascines and woodwork of the head-cover, but Lieutenant Symons extinguished the fire and rebuilt the barricade. His coolness and determination finally compelled the enemy to discontinue their attacks.
Symons returned to Australia in 1916, before setting out for the Western Front later on that year as company commander with the 37th Battalion. Despite being badly gassed during the Battle of Messines in June 1917, he went on to fight in the Somme in 1918.
After the war, he moved with his wife to Hampshire, England, where he served with the Home Guard during the Second World War. He died in London in 1948.
Published 20 June 2016