Case study
WW1 Australian VC recipient William Donavan Joynt
The story of Australian First World War Victoria Cross recipient William Donovan Joynt.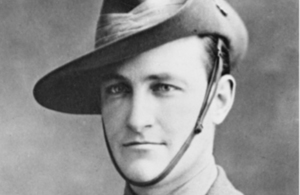 66 men from Australia received the Victoria Cross, Britain's highest award for gallantry, during the First World War. As part of the Centenary Commemorations the people of the United Kingdom marked their gratitude to those courageous men by presenting a bronze memorial plaque to their home country engraved with their names. The plaque is now displayed at the Australian War Memorial. This archive tells their stories.
Name: William Donovan Joynt
DOB: 19 March 1889
Place of Birth: Elsternwick, Melbourne
Date of Action: 23 August 1918
Place of Action: Herleville Wood, France
Rank: Lieutenant
Regiment: 8th Battalion, Australian Imperial Force
William Donovan Joynt was born in Elsternwick, Melbourne, Australia, on 19 March 1889. He enlisted in the Australian Imperial Force in May 1915, and was commissioned later that year. He was posted to France in 1916.
Lieutenant Joynt was awarded the Victoria Cross for his actions on 23 August 1918 during an attack at Herleville Wood, France. His citation explains further:
For most conspicuous bravery and devotion to duty during the attack on Herleville Wood, near Chuignes, Peronne on 23 August 1918. His company commander having been killed early in the advance, he immediately took charge of the company, which he led with courage and skill. On approaching Herleville Wood the troops of the leading battalion, which his battalion was supporting, suffered very heavy casualties and were much shaken. Lt. Joynt, grasping the situation, rushed forward under very heavy machine-gun and artillery fire, collected and reorganised the remnant of the battalion, and kept them under cover pending the arrival of his own company. He then made a personal reconnaissance and found that the fire from the wood was checking the whole advance and causing heavy casualties to troops on his flanks. Dashing out in front of his men, he inspired and led a magnificent frontal bayonet attack on the wood. The enemy were staggered by this sudden onslaught, and a very critical situation was saved. Later, at Plateau Wood, this very gallant officer again with a small party of volunteers rendered invaluable service, and after severe hand-to-hand fighting turned a stubborn defence into an abject surrender. His valour and determination was conspicuous throughout, and he continued to do magnificent work until badly wounded by a shell.
Lieutenant Joynt survived the war. After returning to Australia he set up a printing and publishing company in Melbourne, before serving again during the Second World War. He died in 1986, aged 97.
Published 20 June 2016