Case study
WW1 Australian VC recipient Walter Ernest Brown
The story of Australian First World War Victoria Cross recipient Walter Ernest Brown.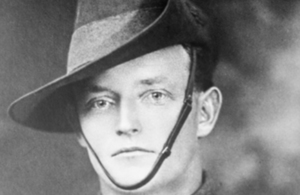 66 men from Australia received the Victoria Cross, Britain's highest award for gallantry, during the First World War. As part of the Centenary Commemorations the people of the United Kingdom marked their gratitude to those courageous men by presenting a bronze memorial plaque to their home country engraved with their names. The plaque is now displayed at the Australian War Memorial. This archive tells their stories.
Name: Walter Ernest Brown
DOB: 3 July 1885
Place of Birth: New Norfolk, Tasmania, Australia
Date of Action: 6 July 1918
Place of Action: Villers-Bretonneaux, France
Rank: Corporal
Regiment: 20th Battalion, Australian Imperial Force
Walter Ernest Brown was born in on 3 July 1885, in New Norfolk, Tasmania, Australia. He worked as a grocer in Sydney before enlisting in 1915. At first, he was assigned to the Light Horse and Camel Corps before transferring to the infantry with the 20th Battalion. Brown was awarded the Distinguished Conduct Medal for his actions at Passchendaele in 1917.
Corporal Brown was awarded the Victoria Cross For most conspicuous bravery and determination on 6 July 1918 at Villers-Bretonneaux in France, when he rushed a machine-gun post armed with a hand grenade. His citation explains:
When with an advanced party from his battalion which was going into the line in relief, Corporal Brown, on his own initiative, crept out along the shallow trench and made a dash towards the post. An enemy machine gun opened fire from another trench and forced him to take cover. Later he again dashed forward and reached his objective. With a Mills grenade in his hand he stood at the door of a dug-out and called on the occupants to surrender. One of the enemy rushed out, a scuffle ensued, and Corporal Brown knocked him down with his fist. Loud cries of Kamerad were then heard, and from the dug-out an officer and eleven, other ranks appeared. This party Corporal Brown brought back as prisoners to our line, the enemy meanwhile from other positions bringing heavy machine-gun fire to bear on the party.
After the war, Brown returned to Australia and settled in Sydney. He enlisted in the Second World War despite being over age. In 1942 he was killed in action in Malaya and has no known grave. He is commemorated at the Kranji War Cemetery in Singapore.
Published 20 June 2016