Case study
WW1 Australian VC recipient Samuel George Pearse
The story of Australian First World War Victoria Cross recipient Samuel George Pearse.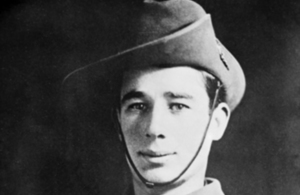 66 men from Australia received the Victoria Cross, Britain's highest award for gallantry, during the First World War. As part of the Centenary Commemorations the people of the United Kingdom marked their gratitude to those courageous men by presenting a bronze memorial plaque to their home country engraved with their names. The plaque is now displayed at the Australian War Memorial. This archive tells their stories.
Name: Samuel George Pearse
DOB: 16 July 1897
Place of Birth: Penarth, Glamorgan, Wales
Date of Action: 29 August 1919
Place of Action: Emsta, North Russia
Rank: Sergeant
Regiment: 45th Battalion, Royal Fusiliers, British Army
Samuel George Pearse was born on 16 July 1897 in Wales, but he emigrated to Australia with his family when young, and settled in Victoria. In July 1915, he enlisted in the Australian Imperial Force and served in Gallipoli and the Western Front where he was awarded the Military Medal.
After the war, Pearse got married in Britain and volunteered for the British Relief Force to North Russia. Whilst serving with the 45th Battalion of the Royal Fusiliers, he was posthumously awarded the Victoria Cross for his actions on 29 August 1919 at Emsta. His citation reads:
Sergeant Pearse cut his way through enemy barbed-wire under very heavy machine-gun and rifle fire and cleared a way for the troops to enter an enemy battery position. Seeing that a blockhouse was harassing our advance and causing us casualties, he charged the blockhouse single-handed, killing the occupants with bombs. This gallant non-commissioned officer met his death a minute later and it was due to him that the position was carried with so few casualties. His magnificent bravery and utter disregard for personal danger won for him the admiration of all troops.
Sergeant Pearse is buried at Archangel Allied Cemetery, Russia. His wife and daughter later emigrated to Australia.
Published 20 June 2016