Case study
WW1 Australian VC recipient Robert Matthew Beatham
The story of Australian First World War Victoria Cross recipient Robert Matthew Beatham.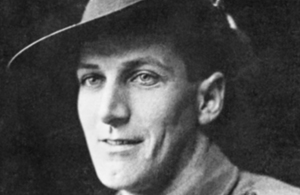 66 men from Australia received the Victoria Cross, Britain's highest award for gallantry, during the First World War. As part of the Centenary Commemorations the people of the United Kingdom marked their gratitude to those courageous men by presenting a bronze memorial plaque to their home country engraved with their names. The plaque is now displayed at the Australian War Memorial. This archive tells their stories.
Name: Robert Matthew Beatham
DOB: 16 June 1894
Place of Birth: Cumbria, England
Date of Action: 9 August 1918
Place of Action: Rosières, east of Amiens
Rank: Private
Regiment: 8th Battalion, Australian Imperial Force
Robert Matthew Beatham was born in Cumbria, England, on 16 June 1894 but emigrated to Australia whilst a teenager. He was a labourer in Geelong, Victoria before enlisting in the Australian Imperial Force early in 1915. He was sent to the Western Front in 1916 and was wounded in action at Pozières, and Passchendaele.
Private Beatham was posthumously awarded the Victoria Cross for his actions on 9 August 1918, at Rosières on the second day of the Battle of Amiens. His battalion was attacking high ground when it was held up by heavy machine gun fire after supporting armour was knocked out of action. His citation reads:
For most conspicuous bravery and self-sacrifice during the attack north of Rosieres, east of Amiens, on 9th August, 1918. When the advance was held up by heavy machine gun fire, Pte. Beatham dashed forward, and, assisted by one man, bombed and fought the crews of four enemy machine guns, killing ten of them and capturing ten others, thus facilitating the advance and saving many casualties. When the final objective was reached, although previously wounded, he again dashed forward and bombed a machine gun, being riddled with bullets and killed in doing so. The valour displayed by this gallant soldier inspired all ranks in a wonderful manner.
Private Beatham was buried at Heath Cemetery, Harbonnières, France.
Published 20 June 2016