Case study
WW1 Australian VC recipient Robert Mactier
The story of Australian First World War Victoria Cross recipient Robert Mactier.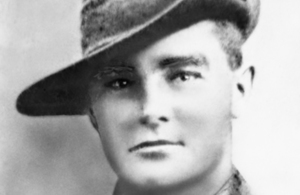 66 men from Australia received the Victoria Cross, Britain's highest award for gallantry, during the First World War. As part of the Centenary Commemorations the people of the United Kingdom marked their gratitude to those courageous men by presenting a bronze memorial plaque to their home country engraved with their names. The plaque is now displayed at the Australian War Memorial. This archive tells their stories.
DOB: 17 May 1890
Place of Birth: Tatura, Victoria, Australia
Date of Action: 1 September 1918
Place of Action: Mont St Quentin, France
Rank: Private
Regiment: 23rd Battalion, Australian Imperial Force
Robert Mactier was born on 17 May 1890, in Victoria, Australia and worked on his parents' property, until enlisting in the Australian Imperial Force in March 1917. Later that year, he joined the 23rd Battalion on the Western Front.
Private Mactier was posthumously awarded the Victoria Cross for his actions on 1 September 1918 at the Battle of Mont St Quentin. The 23rd Battalion were unable to move into the correct position prior to the attack due to enemy machine-gun fire, so Mactier, a company runner, was sent to investigate. His citation reads:
For most conspicuous bravery and devotion to duty on the morning of the 1st September, 1918, during the attack on the village of Mt. St. Quentin. Prior to the advance of the battalion, it was necessary to clear up several enemy strong points close to our line. This the bombing patrols sent forward failed to effect, and the battalion was unable to move. Private Mactier, single handed, and in daylight, thereupon jumped out of the trench, rushed past the block, closed with and killed the machine gun garrison of eight men with his revolver and bombs, and threw the enemy machine gun over the parapet. Then, rushing forward about 20 yards, he jumped into another strong point held by a garrison of six men, who immediately surrendered. Continuing to the next block through the trench, he disposed of an enemy machine gun which had been enfilading our flank advancing troops, and was then killed by another machine gun at close range. It was entirely due to this exceptional valour and determination of Private Mactier that the battalion was able to move on to its "jumping off" trench and carry out the successful operation of capturing the village of Mt. St. Quentin a few hours later.
Private Mactier is buried in Hem-Monacu cemetery, and his Victoria Cross is displayed in the Australian War Memorial's Hall of Valour.
Published 20 June 2016