Case study
WW1 Australian VC recipient Robert Cuthbert Grieve
The story of Australian First World War Victoria Cross recipient Robert Cuthbert Grieve.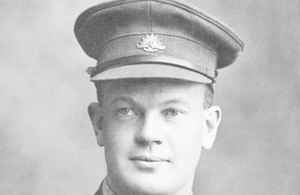 66 men from Australia received the Victoria Cross, Britain's highest award for gallantry, during the First World War. As part of the Centenary Commemorations the people of the United Kingdom marked their gratitude to those courageous men by presenting a bronze memorial plaque to their home country engraved with their names. The plaque is now displayed at the Australian War Memorial. This archive tells their stories.
Name: Robert Cuthbert Grieve
DOB: 19 June 1889
Place of Birth: Brighton, Victoria, Australia
Date of Action: 7 June 1917
Place of Action: Messines, Belgium
Rank: Captain
Regiment: 37th Battalion, Australian Imperial Force
Robert Cuthbert Grieve was born in 1889 in Victoria, Australia. He worked as a travelling salesman before enlisting as a private in the 37th Battalion of the Australian Imperial Force in 1915. He was commissioned as an officer in January 1916, and was eventually promoted to the rank of Captain in February 1917.
Captain Grieve was awarded the Victoria Cross for his actions at the Battle of Messines in Belgium on 7 June 1917. His citation reads:
During an attack on the enemy's position, in the face of heavy artillery and machine gun fire, and after all his officers had been wounded and his company had suffered very heavy casualties, Capt. Grieve located two hostile machine guns which were holding up his advance. He then, single-handed, under continuous fire from these two machine gun, succeeded in bombing and killing the two crews, reorganised the remnants of his company and gained his original objective. Capt. Grieve, by his utter disregard of danger, and his coolness in mastering a very difficult position, set a splendid example, and when he finally fell wounded, the position had been secured and the few remaining enemy were in full flight.
Grieve was badly wounded in the shoulder by a sniper's bullet and was evacuated to England. He was eventually invalided home to Australia in May 1918, where he married the nurse who had cared for him.
After the war, Grieve resumed life as a businessman. During the Second World War he served in the Volunteer Defence Corps. He died in 1957 and was buried with military honours in Melbourne.
Published 20 June 2016