Case study
WW1 Australian VC recipient Percy Valentine Storkey
The story of Australian First World War Victoria Cross recipient Percy Valentine Storkey.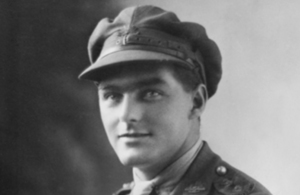 66 men from Australia received the Victoria Cross, Britain's highest award for gallantry, during the First World War. As part of the Centenary Commemorations the people of the United Kingdom marked their gratitude to those courageous men by presenting a bronze memorial plaque to their home country engraved with their names. The plaque is now displayed at the Australian War Memorial. This archive tells their stories.
Name: Percy Valentine Storkey
DOB: 9 September 1893
Place of Birth: Napier, New Zealand
Date of Action: 7 April 1918
Place of Action: Hangard Wood, France
Rank: Lieutenant
Regiment: 19th Battalion, Australian Imperial Force
Percy Valentine Storkey was born on 9 September 1893 in Napier, New Zealand, but moved to Sydney, Australia in 1911 and enrolled in law school there in 1913. He enlisted in the Australian Imperial Force in May 1915 and was sent with the 19th Battalion to the Western Front where he was wounded twice, including at Passchendaele. Lieutenant Storkey was awarded his Victoria Cross for his actions on 7 April 1918 at Hangard Wood, near Villers-Bretonneux. His citation reads:
For most conspicuous bravery, leadership and devotion to duty when in charge of a platoon in attack. On emerging from the wood the enemy trench line was encountered and Lt. Storkey found himself with six men. While continuing his move forward a large enemy party about 80 to 100 strong armed with several machine guns was noticed to be holding up the advance of the troops on the right. Lt. Storkey immediately decided to attack this party from the flank and rear, and while moving forward in the attack was joined by Lt. Lipscomb and four men. Under the leadership of Lt. Storkey, this small party of two officers and ten other ranks charged the enemy position with fixed bayonets, driving the enemy out, killing and wounding about thirty, and capturing three officers and fifty men, also one machine gun. The splendid courage shown by this officer in quickly deciding his course of action, and his skilful method of attacking against such great odds, removed a dangerous obstacle to the advance of the troops on the right, and inspired the remainder of our small party with the utmost confidence when advancing to the objective line.
Storkey was presented with his Victoria Cross by King George V at Buckingham Palace. After the war, he returned to Australia and qualified as a lawyer, later becoming a judge. In 1955, he retired to England with his English-born wife. He died in Teddington in 1969.
Published 20 June 2016