Case study
WW1 Australian VC recipient Percy Herbert Cherry
The story of Australian First World War Victoria Cross recipient Percy Herbert Cherry.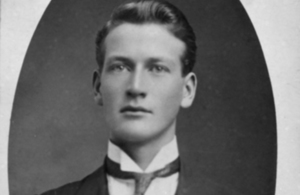 66 men from Australia received the Victoria Cross, Britain's highest award for gallantry, during the First World War. As part of the Centenary Commemorations the people of the United Kingdom marked their gratitude to those courageous men by presenting a bronze memorial plaque to their home country engraved with their names. The plaque is now displayed at the Australian War Memorial. This archive tells their stories.
Name: Percy Herbert Cherry
DOB: 4 June 1895
Place of Birth: Drysdale, Victoria, Australia
Date of Action: 26 March 1917
Place of Action: Lagnicourt, France
Rank: Captain
Regiment: 26th Infantry Battalion, Australian Imperial Force
Percy Herbert Cherry was born in Victoria, Australia on 4 June 1895, but he moved with his family to Tasmania at the age of 7. He became an expert apple packer on the family's orchard, was a skilled rifleman and served in the Citizens Military Force.
In March 1915, he enlisted in the Australian Imperial Force and later served in Gallipoli, where he was wounded. Shortly afterwards he was commissioned as an officer. Cherry was transferred to the Western Front and was awarded the Military Cross in early March 1917, for an attack on Malt Trench.
Captain Cherry was awarded the Victoria Cross posthumously for most conspicuous bravery, determination and leadership on 26 March 1917. His 26th Australian Infantry Battalion had been tasked with the capture of the village of Lagnicourt in France, and Cherry's company were to storm and clear the village. His citation explains:
After all the officers of his company had become casualties he carried on with care and determination, in the face of fierce opposition, and cleared the village of the enemy. He sent frequent reports of progress made, and when held up for some time by an enemy strong point he organised machine gun and bomb parties and captured the position. His leadership, coolness and bravery set a wonderful example to his men. Having cleared the village, he took charge of the situation and beat off the most resolute and heavy counter-attacks made by the enemy. Wounded at about 6.30 a.m., he refused to leave his post, and there remained, encouraging all to hold out at all costs, until, about 4.30 p.m., this very gallant officer was killed by an enemy shell.
Captain Cherry died on 27 March when a shell killed him instantly. He was buried in Quéant Road Cemetery, Buissy.
Published 20 June 2016