Case study
WW1 Australian VC recipient Percy Clyde Statton
The story of Australian First World War Victoria Cross recipient Percy Clyde Statton.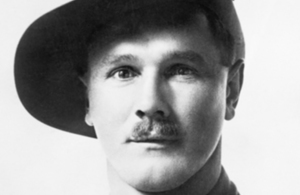 66 men from Australia received the Victoria Cross, Britain's highest award for gallantry, during the First World War. As part of the Centenary Commemorations the people of the United Kingdom marked their gratitude to those courageous men by presenting a bronze memorial plaque to their home country engraved with their names. The plaque is now displayed at the Australian War Memorial. This archive tells their stories.
Name: Percy Clyde Statton
DOB: 21 October 1890
Place of Birth: Beaconsfield, Tasmania, Australia
Date of Action: 12 August 1918
Place of Action: near Proyart, France
Rank: Sergeant
Regiment: 40th Battalion, Australian Imperial Force
Percy Clyde Statton was born in Tasmania, Australia, in 1890 and was working as a farmer before he enlisted in the Australian Imperial Force in February 1916. Posted to the 40th Battalion, he was awarded the Military Medal for his bravery at Messines in June 1917. In October that year, he was wounded, and in June 1918 he was gassed.
Sergeant Statton was awarded the Victoria Cross for a number of acts of bravery on 12 August 1918 near Proyart in France, when the rest of his battalion was held up by heavy enemy fire. His citation explains:
For most conspicuous bravery and initiative in action when in command of a platoon which reached its objective, the remainder of the battalion being held up by heavy machine-gun fire. He skilfully engaged two machine-gun posts with Lewis gun fire, enabling the remainder of his battalion to advance. The advance of the battalion on his left had been brought to a standstill by heavy enemy machine-gun fire, and the first of our assaulting detachments to reach the machine-gun posts were put out of action in taking the first gun. Armed only with a revolver, in broad daylight, Sjt. Statton at once rushed four enemy machine-gun posts in succession, disposing of two of them, and killing five of the enemy. The remaining two posts retired and were wiped out by Lewis-gun fire. Later in the evening, under heavy machine-gun fire, he went out again and brought in two badly wounded men. Sjt. Statton set a magnificent example of quick decision, and the success of the attacking troops was largely due to his determined gallantry.
After the war, Statton returned to Tasmania where he worked as a farmer, and in the timber industry. He died in 1959.
Published 20 June 2016