Case study
WW1 Australian VC recipient Patrick Joseph Bugden
The story of Australian First World War Victoria Cross recipient Patrick Joseph Bugden.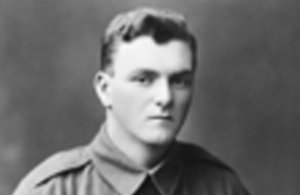 66 men from Australia received the Victoria Cross, Britain's highest award for gallantry, during the First World War. As part of the Centenary Commemorations the people of the United Kingdom marked their gratitude to those courageous men by presenting a bronze memorial plaque to their home country engraved with their names. The plaque is now displayed at the Australian War Memorial. This archive tells their stories.
Name: Patrick Joseph Bugden
DOB: 17 March 1897
Place of Birth: South Gundurimba, NSW, Australia
Date of Action: 26 to 28 September 1917
Place of Action: Polygon Wood, Ypres, Belgium
Rank: Private
Regiment: 31st Battalion, Australian Imperial Force
Patrick Bugden was born on 17 March 1897 in New South Wales, Australia and worked in a hotel on the coast before enlisting as a private in the Australian Imperial Force in May 1916. In 1917, he arrived in France with the 31st Battalion.
Private Bugden was awarded the Victoria Cross for his actions on 26 to 28 September 1917 at Polygon Wood near Ypres in Belgium when the Australian advance was being held up by strongly defended German pillboxes.
His citation explains:
At Polygon Wood on 26 to 28 September 1917, Pte Bugden displayed conspicuous gallantry and devotion to duty. On two occasions the advance was temporarily held up by strongly defended pill boxes. This man in the face of devastating fire from machine guns gallantly led small parties to attack these strong points and successfully silencing the machine guns with bombs, captured the garrison at the point of the bayonet. On another occasion when a Corporal had become detached from his Company, had been captured and was being taken to the rear by three Germans, Pte Bugden single handed rushed to his rescue, shot one German and bayoneted the remaining two, thus releasing the Corporal. On five occasions he rescued wounded men under intense shell and machine gun fire showing an utter contempt and disregard for danger. Always foremost in volunteering for any dangerous mission it was during the execution of one of these missions that he was killed.
Private Bugden is buried at Hooger Crater Cemetery in West Flanders, Belgium.
Published 20 June 2016