Case study
WW1 Australian VC recipient Maurice Vincent Buckley
The story of Australian First World War Victoria Cross recipient Maurice Vincent Buckley.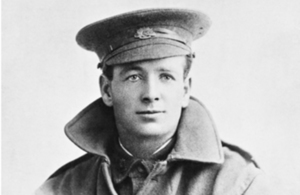 66 men from Australia received the Victoria Cross, Britain's highest award for gallantry, during the First World War. As part of the Centenary Commemorations the people of the United Kingdom marked their gratitude to those courageous men by presenting a bronze memorial plaque to their home country engraved with their names. The plaque is now displayed at the Australian War Memorial. This archive tells their stories.
Name: Maurice Vincent Buckley
DOB: 13 April 1891
Place of Birth: Hawthorn, Melbourne, Australia
Date of Action: 18 Sept 1918
Place of Action: Le Verguier, France
Rank: Sergeant
Regiment: 13th Battalion, Australian Imperial Force
Maurice Vincent Buckley was born on 13 April 1891 in Hawthorn, Melbourne, Australia. He was a coach trimmer before he enlisted in 1914. He was, however, declared a deserter after walking out of a camp, so in 1916 he re-enlisted in the Australian Imperial Force under the name of Gerald Sexton. Buckley was sent to the Western Front. In 1918, he was awarded the Distinguished Conduct Medal. Sergeant Buckley was awarded the Victoria Cross at Le Verguier, France, on 18 September 1918. After the award, Buckley had to disclose his real name. His citation reads:
For most conspicuous bravery during the attack near Le Verguier, north-west of St Quentin, on the 18th September 1918. During the whole period of the advance which was very seriously, opposed, Sgt. Sexton was to the fore dealing with enemy machine guns, rushing enemy posts, and performing great feats of bravery and endurance without faltering or for a moment taking cover. When the advance had passed the ridge at Le Verguier, Sjt. Sexton's attention was directed to a party of the enemy manning a bank, and to a field gun causing casualties and holding up a company. Without hesitation, calling to his section to follow, he rushed down the bank and killed the gunners of the field gun. Regardless of machine-gun fire, he returned to the bank, and after firing down some dugouts induced about thirty of the enemy to surrender. When the advance was continued from the first to the second objective the company was again held up by machine guns on the flanks. Supported by another platoon, he disposed of the enemy guns, displaying boldness which inspired all. Later, he again showed the most conspicuous initiative in the capture of hostile posts and machine guns, and rendered invaluable support to his company digging in.
He returned to Melbourne after the war, dying in 1921 from a riding accident.
Published 20 June 2016