Case study
WW1 Australian VC recipient Lewis McGee
The story of Australian First World War Victoria Cross recipient Lewis McGee.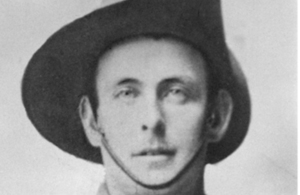 66 men from Australia received the Victoria Cross, Britain's highest award for gallantry, during the First World War. As part of the Centenary Commemorations the people of the United Kingdom marked their gratitude to those courageous men by presenting a bronze memorial plaque to their home country engraved with their names. The plaque is now displayed at the Australian War Memorial. This archive tells their stories.
Name: Lewis McGee
DOB: 13 May 1888
Place of Birth: Campbell Town, Tasmania
Date of Action: 4 October 1917
Place of Action: Passchendaele, Belgium
Rank: Sergeant
Regiment: 40th Battalion, Australian Imperial Force
Lewis McGee was born on 13 May 1888 in Campbell Town, Tasmania. He was working as an engine driver for the Tasmanian Department of Railways, and was married with a daughter when he signed up to the Australian Imperial Force in March 1916. Later that year, he was sent to the Western Front with Tasmania's 40th Battalion, and in June 1917 he took part in the Battle of Messines.
Sergeant McGee was posthumously awarded the Victoria Cross for most conspicuous bravery and devotion to duty on 4 October 1917 at the Battle of Broodseinde Ridge, part of the Passchendaele offensive. The 10th Brigade, which included McGee's 40th Battalion, was tasked with an attack on Broodseinde Ridge. Conditions were appalling with soldiers battling in a sea of mud, and McGee's platoon became pinned down by heavy machine gun fire from a particular German pillbox, as his citation explains:
When in the advance to the final objective, Sjt. McGee led his platoon with great dash and bravery, though strongly opposed, and under heavy shell fire. His platoon was suffering severely and the advance of the Company was stopped by machine gun fire from a "Pill box" post Single-handed Sjt. McGee rushed the post armed only with a revolver. He shot some of the crew and captured the rest, and thus enabled the advance to proceed. He reorganised the remnants of his platoon and was foremost in the remainder of the advance, and during consolidation of the position he did splendid work. This Non-commissioned Officer's coolness and bravery were conspicuous and contributed largely to the success of the Company's operations.
Sergeant McGee was killed 8 days later by a bullet in the head at Passchendaele. He is buried at Tyne Cot cemetery.
Published 20 June 2016