Case study
WW1 Australian VC recipient John Woods Whittle
The story of Australian First World War Victoria Cross recipient John Woods Whittle.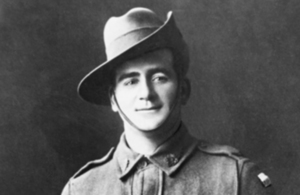 66 men from Australia received the Victoria Cross, Britain's highest award for gallantry, during the First World War. As part of the Centenary Commemorations the people of the United Kingdom marked their gratitude to those courageous men by presenting a bronze memorial plaque to their home country engraved with their names. The plaque is now displayed at the Australian War Memorial. This archive tells their stories.
Name: John Woods Whittle
DOB: 3 August 1882
Place of Birth: Huon Island, Tasmania, Australia
Date of Action: 8 and 15 April 1917
Place of Action: Boursies/Lagnicourt, France
Rank: Sergeant
Regiment: 12th Battalion, Australian Imperial Force
John Woods Whittle was born on 3 August 1882 in Tasmania, Australia. He served during the Second Boer War, before returning home and joining the Royal Navy. He re-enlisted in the army before the outbreak of the First World War and transferred to the 12th Battalion of the Australian Imperial Force in 1915.
Whittle arrived on the Western Front in 1916 and was promoted to Sergeant in October of that year. He took part in the 12th Battalion's attack on the German retreat to the Hindenburg Line in February 1917 and received the Distinguished Conduct Medal for bravery when he bombed an enemy machine-gun post during an attack.
Sergeant Whittle was awarded his Victoria Cross for conspicuous bravery and devotion to duty on two occasions during during attacks against German forces near Boursies and Lagnicourt in France on 8 and 15 April 1917. His citation states:
When in command of a platoon the enemy, under cover of an intense artillery barrage, attacked the small trench he was holding. Owing to weight of numbers the enemy succeeded in entering the trench, and it was owing to Sjt. Whittle personally collecting all available men and charging the enemy that the position was regained. On a second occasion when the enemy broke through the left of our line Sjt. Whittles own splendid example was the means of keeping the men well in hand. His platoon were suffering heavy casualties and the enemy endeavoured to bring up a machine gun to enfilade the position. Grasping the situation he rushed alone across the fire-swept ground and attacked the hostile gun crew with bombs before the gun could be got into action. He succeeded in killing the whole crew and in bringing back the machine gun to our position.
Whittle was wounded twice in 1918 and returned to Australia in October of that year with other Victoria Cross recipients to take part in a recruitment drive. He was discharged in December 1918, after the Armistice, and settled in Sydney.
Whittle died in 1946 and was survived by his wife, one son and three daughters.
Published 20 June 2016