Case study
WW1 Australian VC recipient John William Alexander Jackson
The story of Australian First World War Victoria Cross recipient John William Alexander Jackson.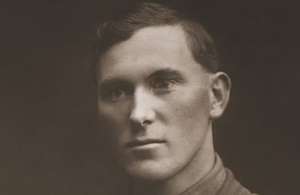 66 men from Australia received the Victoria Cross, Britain's highest award for gallantry, during the First World War. As part of the Centenary Commemorations the people of the United Kingdom marked their gratitude to those courageous men by presenting a bronze memorial plaque to their home country engraved with their names. The plaque is now displayed at the Australian War Memorial. This archive tells their stories.
Name: John William Alexander Jackson
DOB: 13 September 1897
Place of Birth: Gunbar, New South Wales, Australia
Date of Action: 25 to 26 June 1916
Place of Action: near Armentières, France
Rank: Private
Regiment: 17th Infantry Battalion, Australian Imperial Force
John William Alexander Jackson, known by his second name of William, was born on 13 September 1897 in Gunbar, then a hamlet of just 4 houses in New South Wales, Australia. He enlisted, when underage with the 17th Australian Infantry Battalion of the Australian Imperial Force in early 1915. He was in Gallipoli before serving on the Western Front in France from 1916.
Private Jackson was awarded his Victoria Cross for most conspicuous bravery on 25 to 26 June around Armentières, France. Jackson had been on a raid of the German trenches when he returned to the Australian line with a German prisoner. He then returned twice under very heavy shell fire to find wounded comrades. His citation reads:
For most conspicuous bravery. On the return from a successful raid, several members of the raiding party were seriously wounded in No Man's Land by shell fire. Private Jackson got back safely and, after handing over a prisoner whom he had brought in, immediately went out again under a very heavy shell fire and assisted in bringing in a wounded man. He then went out again, and with a sergeant was bringing in another wounded man, when his arm was blown off by a shell and the sergeant was rendered unconscious. He then returned to our trenches, obtained assistance, and went out again to look for his two wounded comrades. He set a splendid example of pluck and determination. His work has always been marked by the greatest coolness and bravery.
He was presented with his Victoria Cross by King George V at Buckingham Palace in November 1916, becoming the youngest Australian at just 18, to win the award in the First World War.
Jackson died in 1959 in Melbourne.
Published 20 June 2016