Case study
WW1 Australian VC recipient John (Jack) Carroll
The story of Australian First World War Victoria Cross recipient John (Jack) Carroll.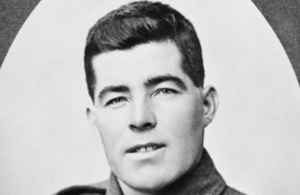 66 men from Australia received the Victoria Cross, Britain's highest award for gallantry, during the First World War. As part of the Centenary Commemorations the people of the United Kingdom marked their gratitude to those courageous men by presenting a bronze memorial plaque to their home country engraved with their names. The plaque is now displayed at the Australian War Memorial. This archive tells their stories.
Name: John (Jack) Carroll
DOB: 16 August 1891
Place of Birth: Brisbane, Australia
Date of Action: 7 to 11 June 1917
Place of Action: St Yves, Belgium
Rank: Private
Regiment: 33rd Battalion, Australian Imperial Force
John (Jack) Carroll was born on 16 August 1891 in Brisbane, Australia, but moved with his family to Western Australia as an infant. He worked as a railway guard before enlisting in the Australian Imperial Force in April 1916, first joining the 44th Battalion, but then transferring to the 33rd Battalion.
Private Carroll was awarded the Victoria Cross for most conspicuous bravery for his outstanding deeds on 7 to 11 June 1917 at St Yves during the Battle of Messines in Belgium. His citation states:
During an attack, immediately the barrage lifted, Pte. John Carroll rushed the enemy's trench and bayoneted four of the enemy. He then noticed a comrade in difficulties, and at once proceeded to his comrade's assistance and killed one of the enemy. He continued working ahead with great determination until he across a machine and team of four men in a shell-hole. Single handedly he attached the entire team, killing three of the men and capturing the gun. Later on two of his comrades were buried by a shell, and in spite of very heavy shelling and machine gun fire, he manage to extricate them. During the 96 hours the battalion was in the line Pte. Carroll displayed most wonderful courage and fearlessness. His magnificent example of gallantry and devotion to duty inspired all ranks in his battalion.
Carroll was promoted to Lance Corporal, but was severely wounded during the Battle of Passchendaele in October 1917, and later returned to Australia. He died in Perth in 1971 and was buried with full military honours.
Published 20 June 2016