Case study
WW1 Australian VC recipient James Park Woods
The story of Australian First World War Victoria Cross recipient James Park Woods.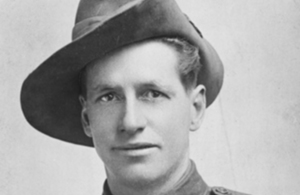 66 men from Australia received the Victoria Cross, Britain's highest award for gallantry, during the First World War. As part of the Centenary Commemorations the people of the United Kingdom marked their gratitude to those courageous men by presenting a bronze memorial plaque to their home country engraved with their names. The plaque is now displayed at the Australian War Memorial. This archive tells their stories.
Name: James Park Woods
DOB: 4 January 1886
Place of Birth: Two Wells, South Australia
Date of Action: 18 September 1918
Place of Action: Le Verguier, France
Rank: Private
Regiment: 48th Battalion, Australian Imperial Force
James Park Woods was born on 4 January 1886, in South Australia. He was working in a vineyard when he initially tried to enlist, but was rejected by the Australian Imperial Force for being too short. He was eventually accepted in September 1916 when height restrictions were relaxed. One year later, Woods was on the Western Front.
Private Woods was serving with the 48th Battalion when he was awarded the Victoria Cross for his conspicuous bravery and devotion to duty, on 18 September 1918 near Le Verguier, near St Quentin in France. His citation states:
(He) captured a very formidable enemy post, and subsequently, with, two comrades, held the same against heavy enemy counterattacks. Although exposed to heavy fire of all descriptions, he fearlessly jumped on the parapet and opened fire on the attacking enemy, inflicting severe casualties. He kept up his fire and held up the enemy until help arrived, and throughout the operations displayed a splendid example of valour, determination and initiative.
After the war, Woods returned to Western Australia where he ran a vineyard and an orchard, married, and had a family. He retired in 1937 after suffering ill health as a result of his war service. Despite this he enjoyed a quiet retirement, and died in Perth in 1963.
Published 20 June 2016