Case study
WW1 Australian VC recipient James Ernest Newland
The story of Australian First World War Victoria Cross recipient James Ernest Newland.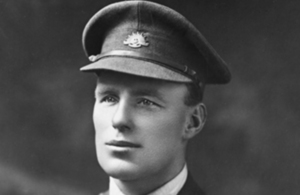 66 men from Australia received the Victoria Cross, Britain's highest award for gallantry, during the First World War. As part of the Centenary Commemorations the people of the United Kingdom marked their gratitude to those courageous men by presenting a bronze memorial plaque to their home country engraved with their names. The plaque is now displayed at the Australian War Memorial. This archive tells their stories.
Name: James Ernest Newland
DOB: 22 August 1881
Place of Birth: Highton, Victoria, Australia
Date of Action: 3 occasions in April 1917: 7 to 9 April and 15 April
Place of Action: Boursies/Lagnicourt, France
Rank: Captain
Regiment: 12th Battalion, Australian Imperial Force
James Ernest Newland was born in Highton in Victoria, Australia, on 22 August 1881. He joined the Australian military as a Private in 1899, and served in the Second Boer War before transferring to the militia (now the Australian Army Reserve) in 1907 and becoming a police officer in Tasmania. Newland re-enlisted in the permanent army in 1910, and transferred to the Australian Imperial Force a few days after the outbreak of the First World War.
In 1915, Newland was in the first wave of men to land at Gallipoli where he was wounded. He was promoted to Captain in March 1916 when he transferred to the Western Front with the 12th Battalion. He was mentioned in Despatches at Moquet Farm near Pozières.
Captain Newland was awarded the Victoria Cross for most conspicuous bravery and devotion to duty, in the face of heavy odds, on three separate occasions on 7 to 9 April and 15 April 1917, during attacks against German forces retreating to the Hindenberg Line near Boursies and Lagnicourt in France. His citation explains the events:
On the first occasion he organised the attack by his company on a most important objective, and led personally, under heavy fire, a bombing attack. He then rallied his company, which had suffered heavy casualties, and he was one of the first to reach the objective. On the following night his company, holding the captured position, was heavily counter-attacked. By personal exertion, utter disregard of fire, and judicious use of reserves, he succeeded in dispersing the enemy and regaining the position. On a subsequent occasion, when the company on his left was overpowered and his own company attacked from the rear, he drove off a combined attack which had developed from these directions. These attacks were renewed three or four times, and it was Capt. Newland's tenacity and disregard for his own safety that encouraged the men to hold out. The stand made by this officer was of the greatest importance, and produced far-reaching results.
Newland was wounded for the third time in May 1917. Medically discharged from the Australian Imperial Force in 1918, he later rejoined the army and retired with the rank of Lieutenant Colonel in 1941. He died in 1949.
Published 20 June 2016