Case study
WW1 Australian VC recipient Henry (Harry) William Murray
The story of Australian First World War Victoria Cross recipient Henry (Harry) William Murray.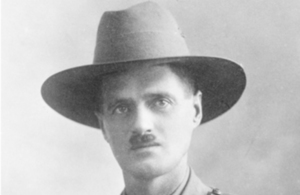 66 men from Australia received the Victoria Cross, Britain's highest award for gallantry, during the First World War. As part of the Centenary Commemorations the people of the United Kingdom marked their gratitude to those courageous men by presenting a bronze memorial plaque to their home country engraved with their names. The plaque is now displayed at the Australian War Memorial. This archive tells their stories.
Name: Henry (Harry) William Murray
DOB: 1 December 1880
Place of Birth: near Evandale, Tasmania, Australia
Date of Action: 4 to 5 February 1917
Place of Action: Stormy Trench, Gueudecourt, France
Rank: Captain
Regiment: 13th Battalion, Australian Imperial Force
Henry (Harry) Murray (or Mad Harry) was born in Tasmania on 1 December 1880. As an adult, he moved to Western Australia where he worked, amongst other things, as a bushman and as an armed escort for a mining company. In September 1914, he enlisted and joined the 16th Battalion as a Private. Three and a half years later, Murray had risen to the rank of Lieutenant Colonel with a string of awards.
Murray served with a machine-gun crew in Gallipoli, where he was awarded the Distinguished Conduct Medal and was later commissioned as an officer in the 13th Battalion. Transferred to fight on the Western Front in France, he received the Distinguished Service Order during the Battle of the Somme.
It was on the night of 4 to 5 February 1917 that Captain Murray won the Victoria Cross. The 13th Battalion, with Murray commanding A Company, attacked the German position of Stormy Trench. His citation in the London Gazette reads as follows:
For most conspicuous bravery when in command of the right flank company in attack. He led his company to the assault with great skill and courage, and the position was quickly captured. Fighting of a very severe nature followed, and three heavy counter-attacks were beaten back, these successes being due to Captain Murray's wonderful work. Throughout the night his company suffered heavy casualties through concentrated enemy shell fire, and on one occasion gave ground for a short way. This gallant officer rallied his command and saved the situation by sheer valour. He made his presence felt throughout the line, encouraging his men, heading bombing parties, leading bayonet charges, and carrying wounded to places of safety. His magnificent example inspired his men throughout.
Murray won a second DSO later in 1917, and the following year he was promoted to Lieutenant Colonel. Further honours included the French Croix de Guerre and the Companion in the Order of St. Michael and St. George.
After the war, Murray returned to Australia and became a grazer on a farm he bought in Queensland. He re-enlisted during the Second World War but retired from active duty in 1944. He died in 1966 following a car accident.
Published 20 June 2016