Case study
WW1 Australian VC recipient Edgar Thomas Towner
The story of Australian First World War Victoria Cross recipient Edgar Thomas Towner.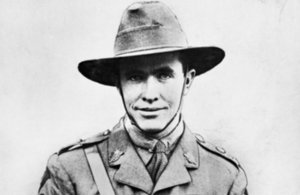 66 men from Australia received the Victoria Cross, Britain's highest award for gallantry, during the First World War. As part of the Centenary Commemorations the people of the United Kingdom marked their gratitude to those courageous men by presenting a bronze memorial plaque to their home country engraved with their names. The plaque is now displayed at the Australian War Memorial. This archive tells their stories.
Name: Edgar Thomas Towner
DOB: 19 April 1890
Place of Birth: Near Blackall, Queensland, Australia
Date of Action: 1 September 1918
Place of Action: Mont St Quentin, France
Rank: Lieutenant
Regiment: 2nd Machine Gun Battalion
Edgar Thomas Towner was born on 19 April 1890 in Queensland, Australia. He enlisted in 1915, and whilst fighting on the Western Front, he was commissioned, awarded the Military Cross, and was mentioned twice in Despatches.
Lieutenant Towner was awarded the Victoria Cross for his actions on 1 September 1918 at Mont St Quentin in France, where he undertook several acts of bravery, including some dangerous reconnaissance. As his citation explains:
For most conspicuous bravery, initiative and devotion to duty on 1st September, 1918, in the attack on Mont St. Quentin, near Peronne, when in charge of four Vickers guns. During the early stages of the advance he located and captured, single-handed, an enemy machine-gun which was causing casualties, and by turning it on the enemy inflicted severe losses. Subsequently, by the skilful, tactical handling of his guns, he cut off and captured twenty-five of the enemy. Later, by fearless reconnaissance under heavy fire, and by the energy, foresight and promptitude with which he brought fire to bear on various enemy groups, he gave valuable support to the infantry advance. Again, when short of ammunition, he secured an enemy machine-gun, which he mounted and fired in full view of the enemy, causing the enemy to retire further, and enabling our infantry to advance. Under intense fire, although wounded, he maintained the fire of this gun at a very critical period. During the following night he steadied and gave valuable support to a small detached post, and by his coolness and cheerfulness inspirited the men in a great degree. Throughout the night he kept close watch by personal reconnaissance on the enemy movements, and was evacuated exhausted thirty hours after being wounded. The valour and resourcefulness of Lt. Towner undoubtedly saved a very critical situation, and contributed largely to the success of the attack.
After the war Towner returned to Queensland, but he served again in the Second World War. He successfully built up a large farm and was a prominent geographer, often exploring and studying the bush for weeks at a time. He died in 1972.
Published 20 June 2016