Case study
WW1 Australian VC recipient Claud Charles Castleton
The story of Australian First World War Victoria Cross recipient Claud Charles Castleton.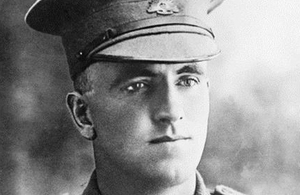 66 men from Australia received the Victoria Cross, Britain's highest award for gallantry, during the First World War. As part of the Centenary Commemorations the people of the United Kingdom marked their gratitude to those courageous men by presenting a bronze memorial plaque to their home country engraved with their names. The plaque is now displayed at the Australian War Memorial. This archive tells their stories.
Name: Claud Charles Castleton
DOB: 12 April 1893
Place of Birth: Lowestoft, England
Date of Action: 28 July 1916
Place of Action: Pozières, France
Rank: Sergeant
Regiment: 5th Machine Gun Company, Australian Imperial Force
Claud Charles Castleton was born in Lowestoft, England, on 12 April 1893 and worked as a teacher before emigrating to Australia in 1912. He had a series of jobs from Tasmania through to Queensland before prospecting for gold in New Guinea at the outbreak of the First World War.
In March 1915, Castleton enlisted in the 18th Battalion of the Australian Imperial Force, fighting in Gallipoli later that year, including in the failed attack on Hill 60. He survived, but was evacuated suffering from dysentery. In March 1916 in France, Castleton was transferred to 5th Australian Machine Gun Company and promoted to sergeant.
Sergeant Castleton was posthumously awarded his Victoria Cross for conspicuous bravery on the night of 28 July 1916, north east of Pozières, during the Battle of the Somme. His citation explains:
During the attack on the enemy trench the infantry were temporarily driven back owing to intense machine gun fire. Many wounded were left lying in shell holes in No Man's Land. Whilst No Man's Land was still under intense M.G. and shrapnel fire, Sgt Castleton went out and twice brought in wounded men on his back; a third time he went out and was bringing back in his third wounded man when he was hit in the back and killed instantly.
Sergeant Castleton was buried in Pozière British Cemetery.
Published 20 June 2016