Case study
WW1 Australian VC recipient Clarence Smith Jeffries
The story of Australian First World War Victoria Cross recipient Clarence Smith Jeffries.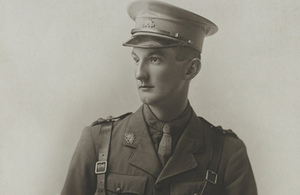 66 men from Australia received the Victoria Cross, Britain's highest award for gallantry, during the First World War. As part of the Centenary Commemorations the people of the United Kingdom marked their gratitude to those courageous men by presenting a bronze memorial plaque to their home country engraved with their names. The plaque is now displayed at the Australian War Memorial. This archive tells their stories.
Name: Clarence Smith Jeffries
DOB: 26 October 1894
Place of Birth: Wallsend, NSW, Australia
Date of Action: 12 October 1917
Place of Action: Passchendaele, Belgium
Rank: Captain
Regiment: 34th Infantry Battalion, Australian Imperial Force
Clarence Jeffries known as Jeff, was born on 26 October 1894 in a suburb of Newcastle, Australia. He worked as a mining surveyor in the local coalfields, and at the outbreak of the First World War, he was commissioned as a second lieutenant in the Citizens Military Force. In 1916, he transferred to the Australian Imperial Force and was sent to the Western Front. Jeffries was wounded at Messines, and was later promoted to captain.
Captain Jeffries was posthumously awarded the Victoria Cross for his actions on 12 October 1917, at the First Battle of Passchendaele, during which the 9th Australian Brigade suffered heavy losses. The battlefield was a boggy marsh following several days of heavy rain. Jeffries led several parties of men in an attack that captured machine guns, and before he himself, was killed by machine gun fire. His citation notes:
For most conspicuous bravery in attack, when his company was held up by enemy machine-gun fire from concrete emplacements. Organising a party, he rushed one emplacement, capturing four machine guns and thirty-five prisoners. He then led his company forward under extremely heavy enemy artillery barrage and enfilade machine-gun fire to the objective.Later, he again organised a successful attack on a machine-gun emplacement, capturing two machine guns and thirty more prisoners. This gallant officer was killed during the attack, but it was entirely due to his bravery and initiative that the centre of the attack was not held up for a lengthy period. His example had a most inspiring influence.
Captain Jeffries was buried near Passchendaele in the Tyne Cot military cemetery. His headstone inscription reads: On fame's eternal camping ground, their silent tents are spread.
Published 20 June 2016