Case study
WW1 Australian VC recipient Arthur Seaforth Blackburn
The story of First World War recipient Arthur Seaforth Blackburn.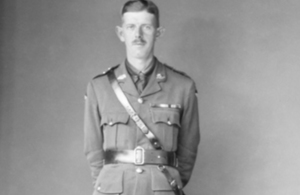 66 men from Australia received the Victoria Cross, Britain's highest award for gallantry, during the First World War. As part of the Centenary Commemorations the people of the United Kingdom marked their gratitude to those courageous men by presenting a bronze memorial plaque to their home country engraved with their names. The plaque is now displayed at the Australian War Memorial. This archive tells their stories.
Name: Arthur Seaforth Blackburn
DOB: 25 November 1892
Place of Birth: Woodville, Australia
Date of Action: 23 July 1916
Place of Action: Pozières, France
Rank: Lieutenant
Regiment: 10th Battalion, Australian Imperial Force
Arthur Seaforth Blackburn was born in South Australia on 25 November 1892. Having qualified as a lawyer, he enlisted as a private in the 10th Battalion of the Australian Imperial Force in October 1914, and played a distinguished part in the Gallipoli landing in April 1915.
Lieutenant Blackburn was awarded the Victoria Cross for his actions on 23 July 1916, at Pozières, during the Battle of the Somme. He commanded a party of fifty soldiers who destroyed an enemy strong point, and captured nearly 400 yards of trench in the face of fierce opposition. He personally led four successive bombing raids during which many members of his party were killed. His citation reads as follows:
For most conspicuous bravery. He was directed with 50 men to drive the enemy from a strong point. By dogged determination he eventually captured their trench after personally leading four separate parties of bombers against it, many of whom became casualties. In face of fierce opposition he captured 250 yards of trench. Then, after crawling forward with a sergeant to reconnoitre, he returned attack and seized another 120 yards of trench, establishing communication with the battalion on his left.
Blackburn later returned to Adelaide, married and resumed life as a lawyer. He served in World War Two with distinction, and in 1946 he was appointed C.B.E. (Military) for distinguished service in Java. Blackburn died in 1960 and was buried with full military honours in West Terrace cemetery.
Published 20 June 2016