Case study
WW1 Australian VC recipient Alexander Henry Buckley
The story of Australian First World War Victoria Cross recipient Alexander Henry Buckley.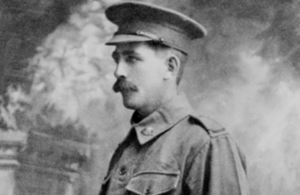 66 men from Australia received the Victoria Cross, Britain's highest award for gallantry, during the First World War. As part of the Centenary Commemorations the people of the United Kingdom marked their gratitude to those courageous men by presenting a bronze memorial plaque to their home country engraved with their names. The plaque is now displayed at the Australian War Memorial. This archive tells their stories.
DOB: 22 July 1891
Place of Birth: Warren, New South Wales, Australia
Date of Action: 1 September 1918
Place of Action: Péronne, France
Rank: Temporary Corporal
Regiment: 54th Battalion, Australian Imperial Force
Alexander Henry Buckley was born on 22 July 1891 in New South Wales, Australia. He was a farmer before he enlisted in the Australian Imperial Force in February 1916. He joined the 54th Battalion on the Western Front and took part in fighting at Bullecourt and Polygon Wood.
Corporal Buckley was posthumously awarded the Victoria Cross for his actions on 1 September 1918 at Péronne in France. His battalion was to take the ground between the town and the river, then move into Péronne if not too strongly opposed. His citation explains further:
For most conspicuous bravery and self-sacrifice at Peronne during the operations on the 1st and 2nd September 1918. After passing the first objective his half company and part of the company on the flank were held up by a machine gun nest. With one man he rushed the post shooting four of the occupants and taking 22 prisoners. Later on reaching a moat, it was found that another machine gun nest commanded the only available footbridge. Whilst this was being engaged from a flank Cpl. Buckley endeavoured to cross the bridge and rush the post, but was killed in the attempt. Throughout the advance he had displayed great initiative, resource and courage, and by his efforts to save his comrades from casualties, he set a fine example of self-sacrificing devotion to duty.
Corporal Buckley was buried in the war cemetery at Péronne, and his Victoria Cross is displayed at the Australian War Memorial.
Published 20 June 2016