Case study
WW1 Australian VC recipient Albert Jacka
The story of Australian First World War Victoria Cross recipient Albert Jacka.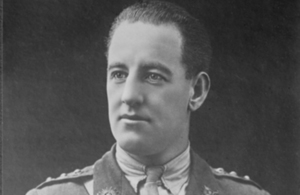 66 men from Australia received the Victoria Cross, Britain's highest award for gallantry, during the First World War. As part of the Centenary Commemorations the people of the United Kingdom marked their gratitude to those courageous men by presenting a bronze memorial plaque to their home country engraved with their names. The plaque is now displayed at the Australian War Memorial. This archive tells their stories
Name: Albert Jacka
DOB: 10 January 1893
Place of Birth: Lanyard, Victoria, Australia
Date of Action: 19 to 20 May 1915
Place of Action: Courtney's Post, Gallipoli, Turkey
Rank: Lance-Corporal
Regiment: 14th Infantry Battalion, Australian Imperial Force
Albert Jacka was the first Australian to be awarded the Victoria Cross during the First World War and became famous for his heroism, with his face used on army recruiting posters.
He was born on 10 January 1893 in Victoria. Before war broke out, Jacka worked as a labourer including, for a time with the Victorian State Forests Department. In 1914, he joined the 14th Battalion of the Australian Imperial Force. He landed on the Gallipoli Peninsula in April 1915, and less than one month later performed the act of conspicuous bravery for which he was awarded the Victoria Cross.
The Turks had launched large-scale assaults against the Anzacs who were entrenched above the beaches. As his citation explains:
For most conspicuous bravery on the night of the 19th–20th May, 1915 , at Courtney's Post, Gallipoli Peninsula. Lance Corporal Jacka, while holding a portion of our trench with four men, was heavily attacked. When all except himself were killed or wounded, the trench was rushed and occupied by seven Turks. Lance Corporal Jacka at once most gallantly attacked them single-handed and killed the whole party, five by rifle fire and two with the bayonet.
Jacka was then sent to the Western Front where he performed further acts of bravery, receiving the Military Cross and a bar to that award. When he returned to Australia, he was described as the symbol of the spirit of the ANZAC S. He later married and was elected mayor of St Kilda, near Melbourne.
Jacka died in 1932, and was buried with full military honours in St Kilda cemetery.
Published 20 June 2016