Case study
WW1 Australian VC recipient Albert David Lowerson
The story of Australian First World War recipient Albert David Lowerson.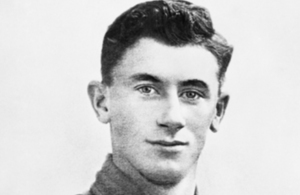 66 men from Australia received the Victoria Cross, Britain's highest award for gallantry, during the First World War. As part of the Centenary Commemorations the people of the United Kingdom marked their gratitude to those courageous men by presenting a bronze memorial plaque to their home country engraved with their names. The plaque is now displayed at the Australian War Memorial. This archive tells their stories.
Name: Albert (Alby) David Lowerson
DOB: 2 August 1896
Place of Birth: Myrtleford, Victoria, Australia
Date of Action: 1 September 1918
Place of Action: Mont St Quentin, France
Rank: Sergeant
Regiment: 21st Battalion, Australian Imperial Force
Albert David Lowerson (known as Alby) was born on 2 August 1896 in Victoria, Australia. He was dredging for gold in New South Wales at the time he enlisted in the Australian Imperial Force in July 1915. He was subsequently wounded at both Pozières and Bullecourt. Sergeant Lowerson was serving with the 21st Battalion when he was awarded the Victoria Cross for conspicuous bravery and tactical skill on 1 September 1918 at Mont St Quentin. His citation explains further:
During the attack on Mt. St. Quentin, north of Peronne, when very strong opposition was met with early in the attack, and every foot of ground was stubbornly contested by the enemy. Regardless of heavy enemy machine gun fire, Sergeant Lowerson moved about fearlessly directing his men, encouraging them to still greater effort, and finally led them on to the objective. On reaching the objective he saw that the left attacking party was held up by an enemy strong post heavily manned with twelve machine guns. Under the heaviest sniping and machine gun fire, Sergeant Lowerson rallied seven men as a storming party, and directing them to attack the flanks of the post, rushed the strong point, and, by effective bombing, captured it, together with twelve machine guns and thirty prisoners. Though severely wounded in the right thigh, he refused to leave the front line until the prisoners had been disposed of, and the organization and consolidation of the post had been thoroughly completed. Throughout a week of operations, his leadership and example had a continual influence on the men serving under him, whilst his prompt and effective action at a critical juncture allowed the forward movement to be carried on without delay, thus ensuring the success of the attack.
Lowerson was later invalided home but still served during the Second World War. He died in December 1945 in his home town, and his Victoria Cross is held at the Australian War Memorial.
Published 20 June 2016