Case study
WW1 Australian VC recipient Albert Chalmers Borella
The story of Australian First World War Victoria Cross recipient Albert Chalmers Borella.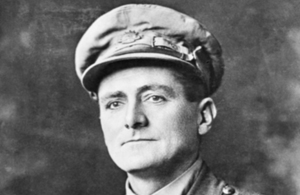 66 men from Australia received the Victoria Cross, Britain's highest award for gallantry, during the First World War. As part of the Centenary Commemorations the people of the United Kingdom marked their gratitude to those courageous men by presenting a bronze memorial plaque to their home country engraved with their names. The plaque is now displayed at the Australian War Memorial. This archive tells their stories.
Name: Albert Chalmers Borella
DOB: 7 August 1881
Place of Birth: Borung, Victoria, Australia
Date of Action: 17 to 18 July 1918
Place of Action: Villers-Bretonneaux, France
Rank: Lieutenant
Regiment: 26th Battalion, Australian Imperial Force
Albert Chalmers Borella was born on 7 August 1881, in Victoria, Australia. He was working in the Northern Territories at the outbreak of war, when he journeyed through a thousand kilometres of the outback to enlist in the Australian Imperial Force, in March 1915. He was sent with the 26th Battalion, first to Gallipoli and then to the Western Front. In 1917, Borella received the Military Medal and was Mentioned in Despatches.
Lieutenant Borella was awarded the Victoria Cross for his actions on 17 to 18 July 1918, around Villers-Bretonneaux whilst leading his platoon in an attack on the front line. His citation reads:
For most conspicuous bravery in attack. Whilst leading his platoon with the first wave Lt. Borella marked an enemy machine gun firing through our barrage. He ran out ahead of his men into the barrage, shot two German machine-gunners with his revolver, and captured the gun. He then led his party, now reduced to ten men and two Lewis guns, against a very strongly held trench, using his revolver and later a rifle, with great effect, causing many enemy casualties. His leading and splendid example resulted in the garrison being quickly shot or captured. Two large dug-outs were also bombed and thirty prisoners taken. Subsequently the enemy twice counterattacked in strong force, on the second occasion outnumbering Lt. Borella's platoon by ten to one, but his cool determination inspired his men to resist heroically, and the enemy were repulsed with very heavy loss.
After the war, Lieutenant Borella returned to Australia and worked as a farmer before re-joining the Army in the Second World War. He died in 1968 at the age of 87.
The Borella Ride which took place between 20 February and 3 March 2015, symbolically retraced the steps of his remarkable journey to enlist, through the Northern Territories.
Published 20 June 2016